Hecha Speckbauer
The farm at 765 m still has it's original farmers' parlour and smokehouse dating back to the 17th century. The pretty garden and terrace are ideal spots to enjoy the view over the Inn valley and Rofan Range.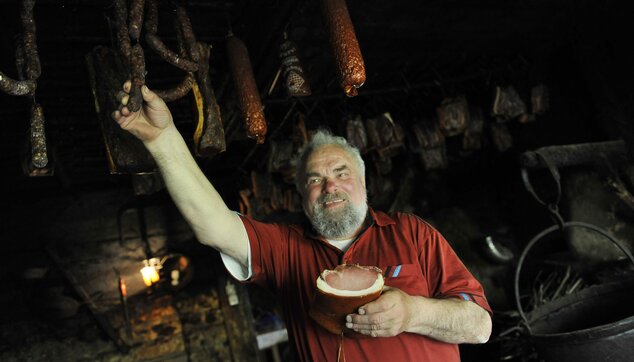 The hike from Mehrn in Brixlegg to the Hechahof in Zimmermoos is a great idea. Stop off at the  historic farmstead. The owner is happy to show guests around the old farm and the smokehouse.
Children can have fun in the playground and see animals at the small petting zoo. The hungry and thirsty can recover their strength with a hearty platter of speck and home distilled schnapps and liqueurs. 
Obstler
Meisterwurz (masterwort)
Enzian (gentian)
Vogelbeere (mountain ash)
Moosbeerschnaps (blueberry)
Choice of liqueurs
The Jausenstation can be reached by car from Brixlegg - Zimmermoos.
Opening hours
01/05/2024 - 31/10/2024
monday - sunday
12:00 - 19:30

Group bookings are taken all year round by prior arrangement
Contact
Konrad Kirchmair
Zimmermoos 1
6230 Brixlegg