Historical Guided Tour by Night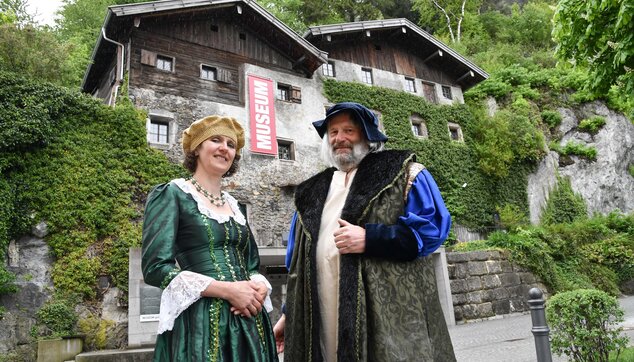 The smallest town in Austria has many stories to tell...
In addition to the classical guided tours, "tours at night" with the guides in period costumes are also offered (in German!).
18.06. & 23.07. & 27.08.2023 - Emperor Maximilian
His Majesty, Emperor Maximilian and his wife Bianca Maria Sforza pay Rattenberg the honour of a visit and talk about happenings in Rattenberg, the surrounding area and their lives in an amusing and cheerful way.
"Rattenberg – Faith and Delusion n the Middle Ages" 9th July & 13th August 2023
The 16th century was a turbulent time in terms of religion, from which the province of Tyrol was also not spared. Especially Rattenberg was a place where even today traces and impacts can be perceived and found. This guided tour would like to bring the events closer.
Start: 8:00 p.m. 
Duration: approx. one hour
Meeting point: at the Nailsmiths' Houses at the towns western entrance
Guided tour in German!
Price: Free of charge

Please register: at one of the the Alpbachtal tourist offices,  online on SEPP - My Alpbachtal app or visit the Experiences Shop

Date & time
Date
Sun., 18/06/2023
Sun., 09/07/2023
Sun., 23/07/2023
Sun., 13/08/2023
Sun., 27/08/2023
Datum Starts at: 20:00 O'clock (Duration: 1 Hour)
Book now!
Book this experience in the Alpbachtal Shop:
Good to know: In the Alpbachtal Shop you will find this and many other unforgettable experiences!
Contact
Alpbachtal Tourismus
Zentrum 1
6233 Kramsach
Venue
Nagelschmiedhäuser
Südtiroler Straße 33
6240 Rattenberg