Schlossberg Theatre Rattenberg 2023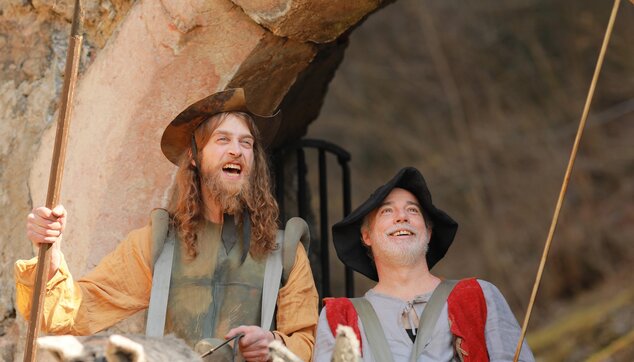 2023 details
Felix Mitterer dedicates himself to a piece of world literature and has adapted the  "Don Quixote" story, based on Miguel de Cervantes novel "Don Quixote de la Mancha". The theatre piece takes theatregoers back to the Middle Ages to the days of knights fighting windmills.
The piece is highly varied, imaginative, poetic and also amusing - a quirky, witty play with lots of situation comedy, twelve adventures that bring encounters of all kinds and see Don Quixote hurrying through a maze of trials and situations, all in honor of his adored Dulcinea.  
One thing one can already be sure of – the troupe of Schlossbergspiele Rattenberg actors will present an elaborately staged and enthralling performance. 
Look forward to Don Quichote, windmills, medieval Spanish music played live on various instruments.
Premiere will be on the 30.06.2023
In case of bad weather the premiere will be postponed to 1st July 2023
Dates & tickets:
Tel. + 43 5337 64002 or 64003, www.schlossbergspiele-rattenberg.at
Ticket prices:
Premiere: € 35,00
other performances: € 23,00

Vouchers available at:
TVB Alpbachtal (Kramsach, Zentrum 1)
Tip: On presentation of the Alpbachtal Card you will receive € 2,00 discount on the regular ticket price! Only one reduction per person possible.
Date & time
Date
Fri., 30/06/2023
Sun., 02/07/2023
Thu., 06/07/2023
Fri., 07/07/2023
Sat., 08/07/2023
Wed., 19/07/2023
Thu., 20/07/2023
Fri., 21/07/2023
Thu., 27/07/2023
Fri., 28/07/2023
Sat., 29/07/2023
Tue., 01/08/2023
Wed., 02/08/2023
Thu., 03/08/2023
Fri., 04/08/2023
Datum Starts at: 21:00 O'clock
Contact
Alpbachtal Tourismus
Zentrum 1
6233 Kramsach
Venue
Schlossbergspiele Rattenberg z.Hdn. Claudia Lugger
Bienerstr. 10
6240 Rattenberg