Theatre Performance - "s'Elädrische" in GERMAN!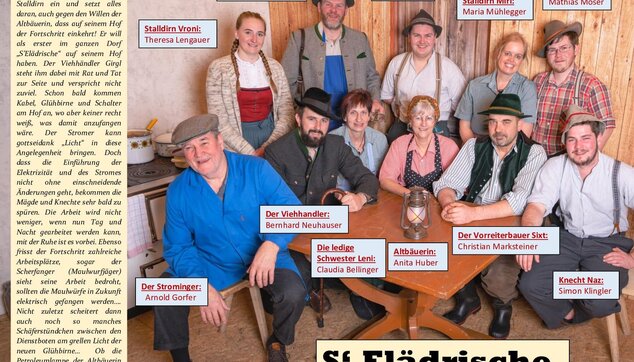 Once again – the amateur theatre group the Heimatbühne Brandenberg invite you to come to an amusing theatre evening in the Brandenberg parish / village hall. The theatre piece is an entertaining folk play in three acts by Peter Landstorfer.

Plot:

Sixt, the farmer from the Vorreiter farm breaks with old traditions. In the middle of the year he employs a young stable girl, against the will of the old farmer's wife he does all he can to bring progress to his farm!! He wants to be the first farmer in the village to have electricity on his farm. Girgl, the cattle dealer supports him in word and deed.
In next to no time, cables, light bulbs and switches arrive at the farm, where no one really knows what to do with them. Fortunately, the "Stromer" can "shed light" on this matter.
It doesn't take long for the maids and farmhands to feel that the introduction of electricity and power is not without drastic changes. The workload doesn't become less once work can be done day and night. The peace and quiet is over. On the other hand, progress eliminates many jobs. Even the Scherfanger (mole hunter) sees his work threatened, should moles also be caught electrically in future....
Last but not least, many a quick encounter between the servants fails because of the glare of the new light bulb...
Has the old farmer's petroleum lamp really seen its day?

Venue: Brandenberg parish / village hall

Tickets: adults: € 10,00, children: € 5,00.
Ticket pre-sale with seating reservations at the Versicherungsbüro Egon Burgstaller/Brandenberg post office. Opening hours: Mon – Fri 8:30 a.m. – 12:30 p.m., Thurs 5:30 – 7:30 p.m., tel. +43 5331 20322
Date & time
Date
Fri., 31/03/2023
Sat., 01/04/2023
Datum Starts at: 20:00 O'clock
Organisator
Heimatbühne Brandenberg
Andrea Auer
Dorf 20
6234 Brandenberg
Venue
Pfarr- und Gemeindesaal
Brandenberg 59
6234 Brandenberg