Mountain experience in the charming Stoffenhof
Hereditary farm Stoffenhof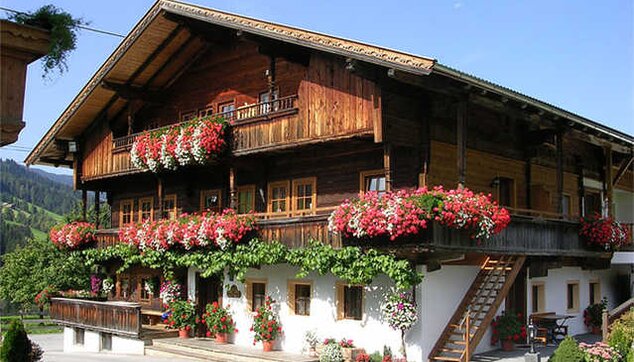 Stay overnight at the hereditary farm
The Stoffenhof is located on the sunny side of Alpbach just a 7-minute walk from the village center of Alpbach. In the hereditary farm, which is steeped in history, you will stay in beautiful apartments, which are equipped with every comfort and in the Alpbach wooden style.
The Stoffenhof is the ideal starting point for a variety of hikes in the Alpbachtal mountains. In summer, young and old will find plenty of space in the large garden and on the lawn. In the evening you can barbecue in the romantic garden house and end the day with your loved ones. Vacation dreams come true here!
Enjoy the unique views while hiking and take advantage of the countless tour options that you can undertake directly from the farm. Spend carefree vacations in the most beautiful nature in one of the cozy and lovingly furnished apartments in the Alpbach wooden style.
Daily fresh on the breakfast table there is in the Stoffenhof also for sale:
Fresh milk from the cows and various jams and honey.
Our happy chickens are responsible for the breakfast egg.
Self-distilled schnapps and liqueurs
Alpine cheese and fresh buttermilk
Information about the hereditary farms in Alpbachtal
There are over 20 hereditary farms in Alpbach. But what makes a farm a hereditary farm, you may now ask. The designation Erbhof is given to families who have owned and managed a farm for several generations and at least 200 years in a direct line. Thus, they have the right to bear the honorary designation of Erbhof on a plaque.
As far as the age of the families sitting on the farms is concerned, the Alpbach hereditary farm owners are probably the absolute front runners with an average length of ownership of over 300 years. Three of these families are even over 400 years old. The centuries-long family tradition with an average of 10 generations on a hereditary farm continues in the great age of the buildings. You can find more information here!
You want to stay in an original Alpbach hereditary farm? Then book your hiking vacation at the Stoffenhof now!