Alpbach Farmhouse Museum
A few hundred metres above the small church in Inneralpbach, on the edge of the forest, stands the "Vorder-Unterberg" farm. The farmstead was built between 1636 and 1638 and inhabited up to 1952.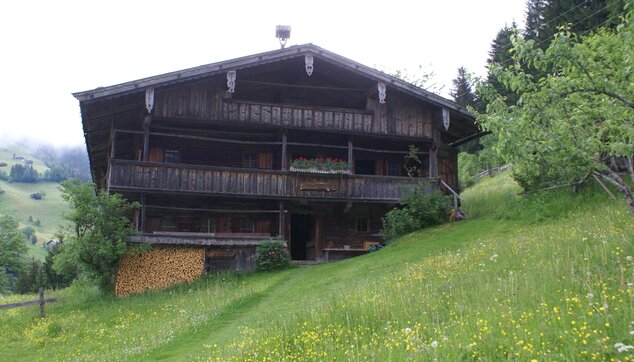 The only Alpbach four-poster bed in the valley
The animals back in the stable are not worried that the farmhouse is no longer inhabited. They receive plenty of visitors, because the mountain farm museum in Inneralpbach is a popular excursion destination with Alpbachtal guests.

About 800 utensils and furnishings are on display, giving insight into the Alpbachtal rural life of the past. Butter churns, wooden skis, hay baskets, traditional costumes and even a tooth drill from the 18th century are on display in the museum.
A rarity can be found in a small room behind the farmhouse kitchen - the only Alpbach four-poster bed in the valley. The old farmers' people slept in this room. The room was bitterly cold, because the fireplace only heated the upper bedrooms. To keep warm they used home-produced linen flax, straw sacks and sheep's wool.
Opening hours
29/05/2023 - 28/09/2023
monday & thursday
13:00 - 16:00

Guided tour: minimum participants for any tour is 5 pax.
For group visits or visits outside opening hours please contact:
Franz Moser tel +43 664 5731466
Peter Lederer tel. +43 0699 10545215

or the Gemeinde Alpbach tel. +43 5336 5224
Closed in winter!
Price information
Per person:
Adults: € 3,00 (€ 2,00 with the Alpbachtal Card) / children: € 1,50 (€ 1,00 with the Alpbachtal Card)
Groups as from 10 persons: € 2,00 per person
Contact
Alpbacher Bergbauernmuseum
Markus Bischofer
Vorder-Unterberg
Alpbach 34
6236 Alpbach