Summer cable cars
Alpbachtal's cable cars in summer
Want to see the Alpbachtal from above? The two local summer mountain lifts make it possible: the Wiedersbergerhornbahn in Alpbach and the Reitherkogelbahn in Reith im Alpbachtal. Reach alpine children's play areas and the starting point of countless high-altitude hikes comfortably and safely with our summer mountain lifts. The Alpbachtal family adventure mountains have plenty to offer!
Cable car Reitherkogelbahn in Reith im Alpbachtal
From Reith im Alpbachtal, spacious 8-seater gondolas take you to the top station of the popular family mountain Reither Kogel in just a few minutes. Smiles are guaranteed in the magical world of Juppi's Enchanted Forest and the circular trail that leads you there is suitable for buggies, of course. Outdoor enthusiasts will love the huge variety of hiking routes on the Reither Kogel and Liftcafé Heisn is a great place to stop for a bite to eat when you are back at the valley station.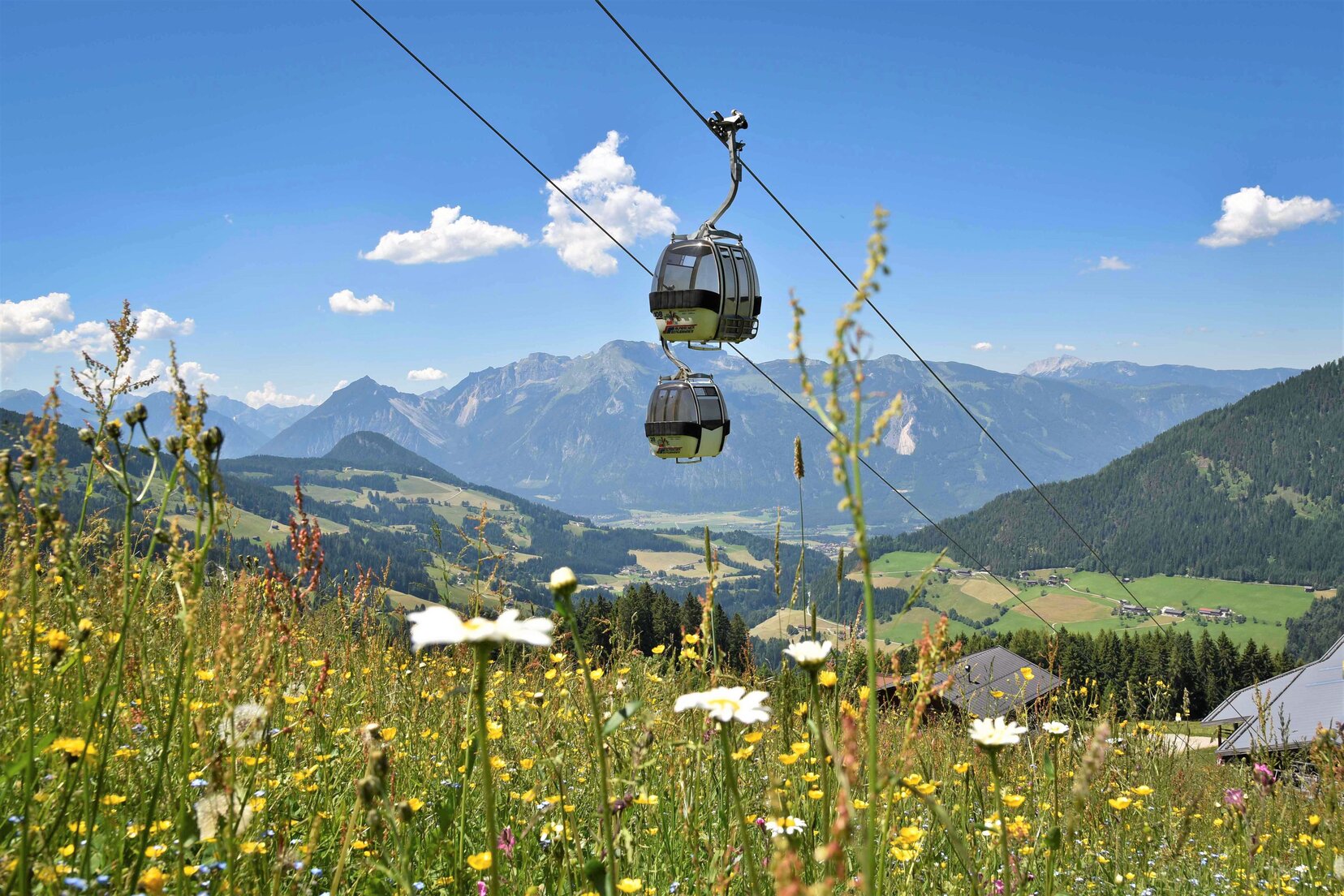 Cable car Wiedersbergerhornbahn in Alpbach
To get a taste of mountain air from Alpbach, climb on board the Wiedersbergerhornbahn 6-seater gondola. You float over the treetops towards the Wiedersberger Horn where adventure forest playground Lauserland with the popular Alpbachtal Lauser-Sauser awaits you at the top. A hiker's paradise in the midst of the Kitzbühel Alps also lies at your feet. From the high-alpine ridge hike for experienced mountaineers to the leisurely family hike – there are plenty of tours to choose from.
Save the date: Hikers are rewarded with an exceptionally colourful landscape in early summer when the alpine roses are in bloom. And for many fresh air fanatics, the sunrise ride to the Wiedersberger Horn is the ultimate mountain experience.
Es zieht dich schon im Frühling oder noch im Herbst bergwärts – in vielen Regionen stehst du aber vor den geschlossenen Toren der Gondelbetriebe? Anders im Alpbachtal! Die langen Betriebszeiten der Sommerbergbahnen von Mitte Mai bis in den frühen November ermöglichen dir ausgedehnten Wandergenuss – auch in den Nebensaisonen.
Operating times
Lift off with the Alpbachtal Card
Did you know that your Alpbachtal Card gives you a great advantage when using our summer mountain lifts because all trips are included free of charge? And it you fancy visiting the neighbouring region of Wildschönau, you can use their summer mountain lifts for free too!
An overview of the benefits