Reith farmer's markEt
Reith i. A. cattle drive & kermis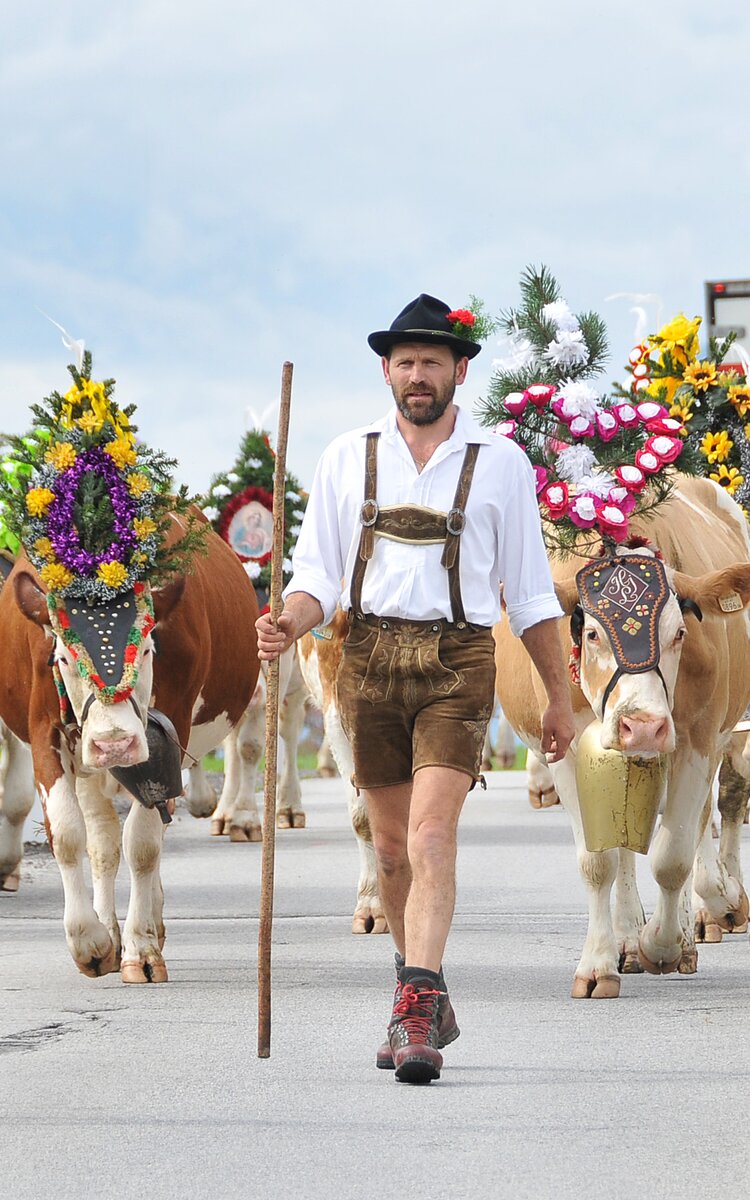 IN SEPTEMBER WE CELEBRATE
One of the largest transhumance / cattle drives in the Tyrol
Most people have heard of the Almabtrieb. For Tyroleans, the Almabtrieb is as much a part of life as the daily view towards the Tyrolean mountain peaks.
Nevertheless, not all Almabtriebs are the same. There are smaller alpine cattle drives with a few onlookers, five-minute long parades of livestock through the village or really grand festivals. Reith i.A. is definitely a large event and remains one of the highlights of the season. The Almabtrieb was never staged especially for tourists, but has developed from farming tradition and down-to-earth crafts.
Colourfully decorated cows, handicrafts and genuine Tyrolean delicacies make the Almabtrieb (= cattle drive) in Reith im Alpbachtal an exceptional festival that is celebrated every year on the last two weekends in September. The Reither Almabtrieb is one of the largest Almabtrieb in Tyrol welcoming visitors from all over the world.
Starting at 10:00 A.M.
23.09.2023 & 30.09.2023
Large crafts market

Gourmet market

Parade and concert given by the Bundesmusikkapelle Reith im Alpbachtal

Cattle drive through the village at approx. midday

Tyrolean music groups playing at various areas in the village

Tyrolean specialities and home cooking

Alphorn blowers & the Rottacher Goasslschnalzer (whip crackers)

Admission: € 7,00 per person
Free admission for children up to 12 years!
Subject to change - as of: March 2023
Download folder
What awaits you at the Almabtrieb
The festivities begin at 10:00 a.m. in Reith im Alpbachtal with the marching band and a concert in the square. Along the Schmankerl- und Handwerkerstraße, farmers offer their regional specialities and numerous craftsmen give insights into their traditional handicrafts. From shingle-making, feather-quill embroidery or almost forgotten crafts such as lace-making and hat to soap making, the event wil give you impressive insights into old rural traditions.
The first cows will trot through Reith im Alpbachtal village centre from 12:00 p.m. The pot-bellied beauties never fail to send onlookers into raptures. The Reith farmers decorate their cows with splendid ribbons, colourful headdresses and cheerfully ringing bells.
While waiting for the next homecomers, roving alphorn blowers and Tyrolean folk music groups will provide for entertainment.
You will find food stalls tempting you with real delicacies. At the large farmers' and gourmet market farmers from the region offer veritable specialities such as fruit from Breitenbach, kiachl (sphere shaped type of doughnut), doughnuts or all kinds of delicious things from grandma's garden. Even though the festival takes place on two Saturdays, not a single animal is led through the village twice.
download program
Group registration over 20 people
For groups of 20 or more people, there is the opportunity to purchase discounted advance tickets for the Almabtrieb. To do so, please fill out the registration form and send it to reith@alpbachtal.at.
Admission: € 6.00
Children up to 12 years old: Free admission!
For groups of 20 or more people (advance purchase only). Bus drivers/tour guides enter for free!
Group registration form
If you can't get enough of traditional flair then visit us in autumn 2024 in Reith im Alpbachtal and enjoy regional delicacies and marvel at Tyrolean handicrafts at the Almabtrieb.
Dates for 2024:
21.09.2024
28.09.2024
Subject to change!