Cycling & mountain biking
Out & away by bike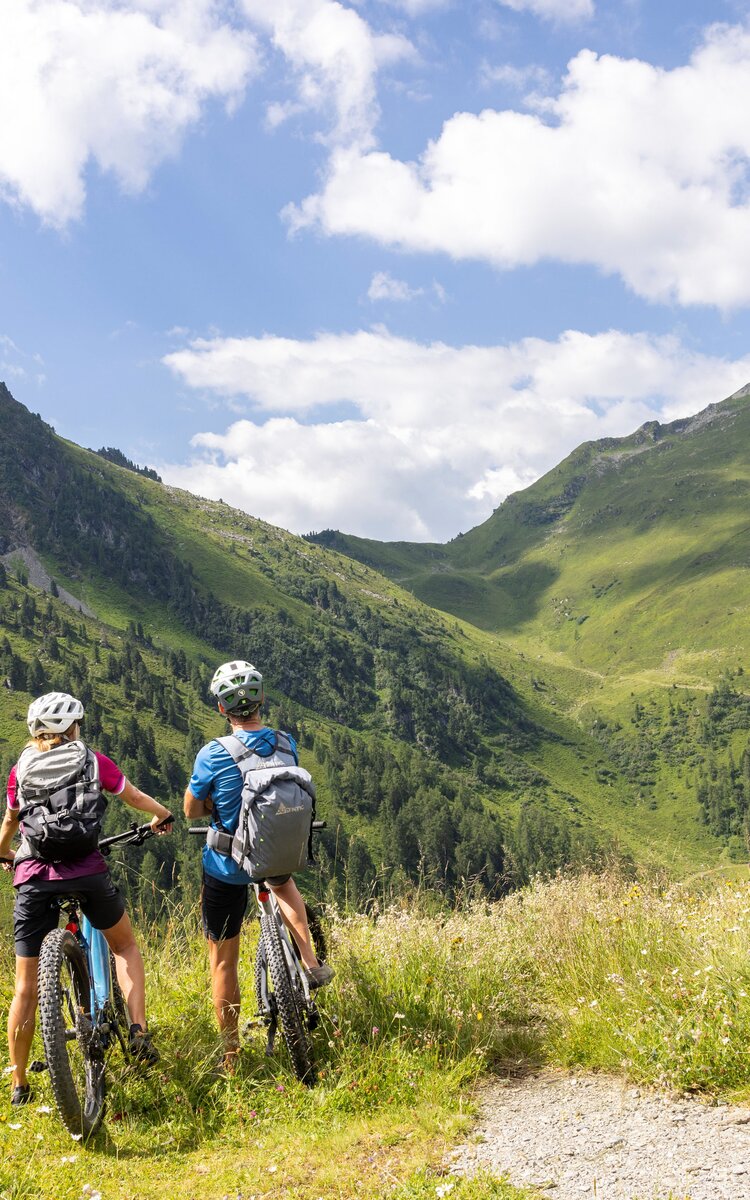 OUT & ABOUT WITH YOUR Bike iN THE Alpbachtal
Through the region on two wheels
The Alpbachtal is a dream come true for all biking lovers. Thanks to its diverse terrain, the Tyrolean holiday region is a popular destination for action fans, leisure cyclists and families with children. The gentle grass mountains and extensive cycle paths are ideal for mountain bikes, e-bikes and road cycling tours alike.
Given its central location, the Alpbachtal is also an ideal starting point for rides to neighbouring valleys. And you will find no end of bike-related services, itineraries and events here, so you can enjoy your hobby to the full.
OUT & ABOUT WITH YOUR BIKE IN THE ALPBACHTAL
Just you & your mountain bike...
The best way to explore the natural beauty of the Alpbachtal holiday region is by mountain bike. More than 20 mountain bike routes covering 250 km take you on an exciting ride through the region.
To the mountain bike tours
OUT & ABOUT WITH YOUR BIKE IN THE ALPBACHTAL
Calling all e-bikers!
E-bikes are a great way of getting to places you might otherwise not have discovered and they are particularly suited for long rides along the region's extensive cycle paths. E-bikers are well-catered for in the Alpbachtal with official charging stations where you can top up your bike's battery for free and many restaurants offering charging options too.
All about electrically assisted biking fun
OUT & ABOUT WITH YOUR BIKE IN THE ALPBACHTAL
Improve your technique for the terrain
Looking for action and a new challenge? If you want to train and improve your mountain bike skills, you've come to the right place at the Skillpark & Pumptrack. The training ground is located directly on the Inn Cycle Path near the Glass Town of Rattenberg. It's the ideal meeting place for mountain bike enthusiasts of all ages.
Plan your practice
WHERE TO RENT A BIKE
Arriving in Alpbachtal without a bike
It's worth paying a visit to our local bike rental and service stations so you have the right set of wheels for your bike holiday in the multifaceted Alpbachtal. Choose your dream bike from a variety of top models.
Good to know: The Alpbachtal Card gives you great discounts on bike rental!
Get your gear here!
BIKE HIGHLIGHTS
Event tips for bike fans
No matter whether you're a leisurely rider or an adventurer – there's an event for you in the Alpbachtal. The annual Alpbach Bike Days with the highly acclaimed e-bike Gauditour, the Reither Kogel Trophy and the e-Bike Battle are particularly popular. In addition, you can enjoy guided e-bike and bike tours led by professional guides.
Find out more
SUGGESTED TOURS FOR BIKERS
The right tour for all bikers
Are you looking for a specific route or do you have special requests for your upcoming tour? Our interactive bike map provides for a quick overview of the region's variety of routes and xou can filter the individual entries according to your wishes and needs. This makes planning your next bike trip child's play!
to the interactive map
PEDAL AHEAD
The best of both worlds
If Alpbachtal's natural treasures not only make you want to head out on your bike, but also awaken your desire to hike, we recommend one of the many bike & hike tours. Longer distances can be quickly covered with these offers and especially the way back - downhill - provides for joy and fun. Popular destinations are the Steinbergalm, an alpine cheese dairy at 1,700 m above sea level and Lake Zirein, which can be reached via the Bayreuther Hütte mountain hut.
Find bike & hike tours
While biking is a nice day out for some holidaymakers, for others it is the focus of their entire stay. And it is for these bike enthusiasts that the Alpbachtal offers certified bike accommodations, specific sports packages and well thought out services.
Anyone who goes on holiday with their bike naturally has special requirements when it comes to accommodation, from a secure place to keep their bike to tools for minor repairs. Our certified bike accommodations have set themselves the task of meeting the specific demands of bike holidaymakers – whilst adhering to all quality criteria, of course.
Find your accommodation