Children's Park
Fun for the whole family!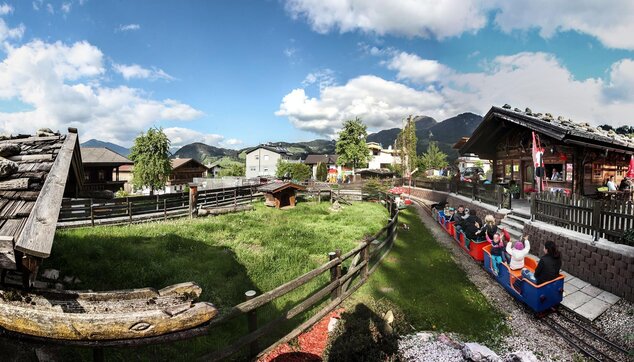 Welcome to the Kinderpark Reith i.A. - where fun is at home for the whole family!
Immerse yourself in a world of adventure and discovery while enjoying numerous attractions. Whether you want to test your skills at mini-golf and pit-pat, feel like a real racing pro in the electric cars or explore the enchanting park railway, there is something here for everyone!
Kids can let off steam on the trampoline and meet cute little animals, while the garden gnomes keep them cheerful company. If all the activities have made you hungry and thirsty a buffet provides snacks and drinks. The Kinderpark Reith i.A. promises an unforgettable family adventure - and the Kinderpark team can't wait to welcome you!

Alpbach Children´s Park - adventure and fun for all ages
mini golf
pit-pat
electric cars
mini train
trampoline
petting zoo
garden gnomes
A fee is applicable at each play area. Admission to the park is free.
The buffet offers snacks and drinks for the hungry and thirsty.
Opening hours
16/04/2023 - 31/10/2023
monday - sunday
10:00 - 22:00

Free mini golf for children (adults pay regular fee) with your Alpbachtal Card
Price information
Free minigolf for children with the Alpbachtal Card!
Contact
Lucy Kadric
Neudorf 22
6235 Reith im Alpbachtal