Anderl's Almhütte
Situated at 1.545 m altitude. Enjoy a typical "Brettljause", a refreshing drink and enjoy the beautiful views.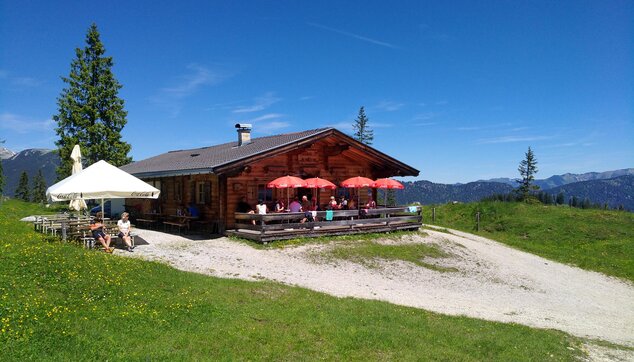 Nestled in the picturesque Alpine region of Brandenberg, Anderl's Alpine Hut sits at an elevation of 1,545 meters and is conveniently accessible on foot from the Aschau district in Brandenberg. While indulging in a delicious platter of local snacks, one can relish the breathtaking panorama of the surrounding mountains, including the Kaisergebirge and the Kitzbüheler Alps.
The hut serves as a perfect refreshment stop on the way to the idyllic Zireinersee, known as the "blue eye" of the Rofan mountains.
Opening hours
25/09/2023 - 26/10/2023
saturday & sunday
10:00 - 17:00

June: only open on Sat + Sun
October: only open on Sat + Sun
Closed on Mondays and Tuesdays!
The hut is closed in winter and in bad weather!
Contact
Anderl´s Almhütte
Klingler
Aschau 9 / auf der Labegg Alm
6234 Brandenberg