Hildegard von Bingen garden
All nature should be available to man so that he can work with it, because man can neither live nor exist without it ......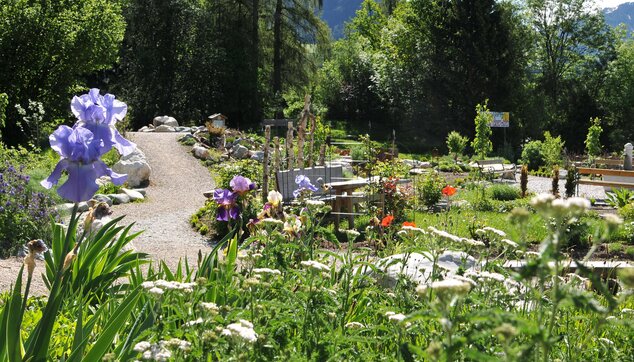 Conventional medicine can do a lot, but the healing effect of herbs can already help with some aches and pains. The Hildegard association have committed themselves to sharing ancient herbal lore and opened the first Hildegard von Bingen garden in the Tyrol.
The 900 m² large field next to the school in Reith i. A. was transformed into an oasis of quiet and calm. Discover the garden with its many herbs, bare foot and massage path and other interesting corners.

Parking: at the Reitherkogelbahn. Cross the road and walk down the road towards the school. The beautiful garden is to the left of the school on a small hill. 
Admission: at the garden entrance is a collection box for voluntary donations
Guided tours (in German!): from May - September every Wednesday at 10:00 a.m. Duration approx. 1 hour. Fee: € 5,00 per person. Meerting point: at the garden.
Individual guided tours on request. 
The herb garden is a popular excursion destination for groups!
 
Opening hours
Always open
The Hildegardgarten is open daily. The garden is particularly worth seeing from April to October.
Contact
Schau- und Erholungsgarten Hildegard von Bingen
Maria Schellhorn
Sonnbichl
6235 Reith im Alpbachtal