alPACHA Cocktail-Lounge-Bar
Round off the day in the cosy lounge area with open fireplace. End the day with a delicious drink and a magnificent view over the valley.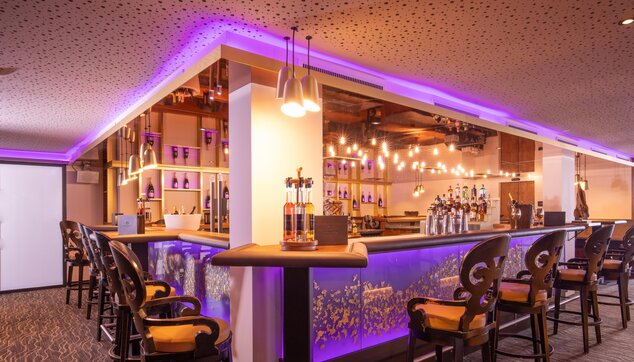 Enjoy unforgettable moments in a relaxed company and a pleasant atmosphere with an exquisite glass of wine, an aromatic cup of coffee, or a refreshing drink.
Welcome to the alPACHA Cocktail-Lounge-Bar - a place of encounter and indulgence! Here, you can unwind in the company of friends and family, savoring life to the fullest. The extensive selection of beverages leaves no desires unmet, and our trained team is ready to pamper you with delightful creations.
Experience the exciting weekly evening programs, featuring electrifying live music and the breathtaking Galtenberg Fashion Show. These events create an even more vibrant ambiance and guarantee unforgettable moments. Let yourself be enchanted by the stylish ambiance and feel the magic of this place, which equally attracts locals and guests.
Dive into the world of the alPACHA Cocktail-Lounge-Bar and let yourself be enticed by the fascinating drink choices, cultural events, and welcoming hospitality. Every moment matters here, and we warmly invite you to experience this unique oasis of pleasure and conviviality.
Opening hours
17/05/2023 - 05/11/2023
monday - sunday
15:00 - 00:00

Contact
Galtenberg Family & Wellness Resort
Galtenberg Resort
Alpbach 40
6236 Alpbach