Road Cycling
Difficulty: Easy
Road bike 12 Zillertal Cappucino
An easy tour avoiding busy main roads, leading throught the villages to the right hand side of the Ziller Valley. Ideal route if you are new to cycling.
TVB Tour 12 – Zillertal Cappucino
Distance 76 km
Elevation gain 500 m
Gradient max. 6 %
Best time Spring – late autumn
Grading moderate
Additional information
Bike & mountain bike shops
Safety guidelines
Right-hand traffic in practice. Please obey the highway code, road safety and vehicle rules.
Directions
Rattenberg - Bruck am Ziller - Zell am Ziller - Mayrhofen - Kaltenbach - Fügen - Strass im Zillertal - Rattenberg
0 Km (from the start) start Rattenberg, Notburga fountain to Brixlegg 3rd exit at the roundabout 5,5 km to Landhaus
6,4 left Landhaus, turn-off L 294 to Bruck/Imming 3,0 km
9,4 left Imming, turn-off turn right after 50 m turn right after 3,1 km at the junction continue along the road for 2,9 km
15,4 left Haselbach, turn-off turn right after 600 m 4,6 km to Stumm
20,6 straight Stumm / church 6,5 km along the L 216 and the Ahrnbachstraße
27,1 right Zell am Ziller / mountain lift bottom station continue along the road for 1,6 km
28,7 right Zell am Ziller, railroad crossing turn left after 70 m continue along the road for 1,0 km
29,8 right B 169 junction continue along the road for 1,8 km
31,6 left Ramsau (M-Preis) turn-off cross the car park to the right after 500 m keep left after a further 300 m keep right 4,0 km via Hollenzen to Mayrhofen
36,6 right Mayrhofen centre, turn-off turn half-right after 100 m, then cross the B 169 and rail tracks
36,8 right Bäckerei Eberharter, on the Schwendau-Straße turn left after 200 m, cross the bridge and turn right 4,0 km to Burgstall and Stockach
41,0 straight Hippach, church 3,6 km along the L 300
44,6 straight Zellbergeben 6,0 km along the L 300 through Aschau
50,6 ! left ! To Aschau, turn-off turn right after 200 m at the intersection, to Kaltenbach
52,1 left Kaltenbach – bottom station, turn-off turn right after 400 m and then left continue along the road to Ried
54,0 left Ried, turn-off (360 m after the church) turn right after 60 m, continue along the Kirchweg
56,4 left Uderns – golf course, turn-off turn right after 500 m at the church and 60 m into Dorfstraße
57,0 left Uderns, turn-off Dorfstraße 3,0 km via Finsing and Kapfing to Fügen
60,0 straight Fügen centre turn left after 850 m onto the Radweg (not the B 169!) 5,6 km via Schlitters to Strass
66,4 right Strass, turn-off after 1,2 km B 171 junction to Rattenberg
75 finish Rattenberg
Author
Manuel Hufnagel
Details
Max. Altitude
627
Start
Rattenberg, town main square fountain
End
Rattenberg, town main square fountain
Public access

Leave the motorway at the Kramsach/Alpbachtal exit, turn left towards Brixlegg/Rattenberg. Take the third roundabaout exit. Rattenbergs car parks are to the left and right after 400m (partly free of charge).

- or by bike https://radrouting.tirol/

Public transport

Train station nearby

Parking
By train to Rattenberg train station, by car to one of the parking areas in Rattenberg (east or west).
Equipment

Helmet, sun glasses, gloves, rain proof clothing, bike outfit, first aid kit, replacement inner tube, tire lever, bike pump or cartridge, mobile phone, cash, bank card, drinking bottle, energy gel or bar, cap or bandana, leg and arm warmers.

In any case - equipment should be adapted to the time of year.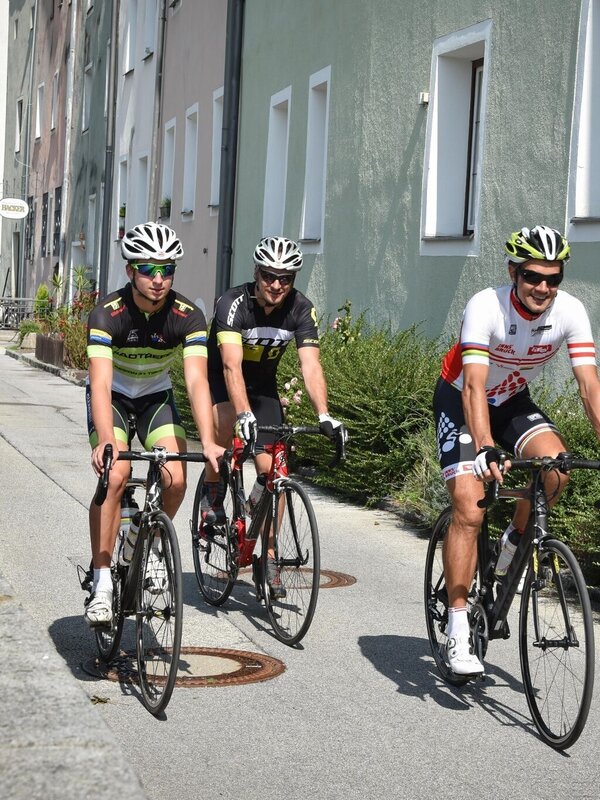 Tips for you
Good to know
There's more!
Similar tours