Ski Touring
Difficulty: medium
Schatzberg Sunny Side - Inneralpbach
Ski touring on the "sunny side" from Alpbach to the Schatzberg
Walking time: approx. 2,5 hours – 900 m elevation gain
Starting from the car park in Inneralpbach backtrack for a few metres on the main road and turn right after the bridge. To the left of Gästehaus Hummerau put on your skis and walk up the slope slightly to the right to the gap in the fence. Cross the road and fields and a further road. After the next fields, you reach the woods and a clearing through their middle. Keep to the side of the clearing; you will soon reach the snow-covered slopes at the Jochumalm. Now and then, you will encounter yellow/red markers. Follow the markers to the Hahnkopf at 1.902 m. From here, you will be able to make out the ski areas top station and the Schatzberg.
Descent: if you like, you can cross behind the ski lift top station and tour up the last metres to the Schatzberg peak. Most ski tourers descend from the Hahnkopf by following their uphill tracks. Alternatively, you can continue from the Hahnkopf in a south-easterly direction, crossing several clearings to the right and short stretches through the woods to the Lueger Valley and return to Inneralpbach via the cross-country trail.
Author's recommendation
Tip: make a detour to the reservoir from the Hahnkopf and cross the plateaus mounds to the Joel (approx. 1 ½ hours) ski down the sweeping free slopes into the Lueger Valley.
Safety guidelines
When skiing off-piste please observe the daily avalanche report.
Directions
Car park in Inneralpbach - put on skis - fence slip-through, cross road and walk uphill over slopes to a second road - slopes - woods - alongside the forest - Jochumalm - yellow/red markings - Wetterkreuz - Hahnkopf at 1.902 m- Schatzberg
Author
Alpbachtal Tourismus
Details
| | |
| --- | --- |
| Max. Altitude | 1898 |
| Start | Alpbach/Inneralpbach |
| End | Alpbach/Inneralpbach |
| Public access | A12, motorway exit Kramsach/Brixlegg, towards Brixlegg, Alpbachtal to Inneralpbach, car park in front of Connys Original Tiroler Wirtshaus |
| Public transport | www.vvt.at Bus no. 4074/bus stop: Inneralpbach |
| Parking | Inneralpbach car park (fees apply) |
| Equipment | Ski touring equipment, something to eat and drink |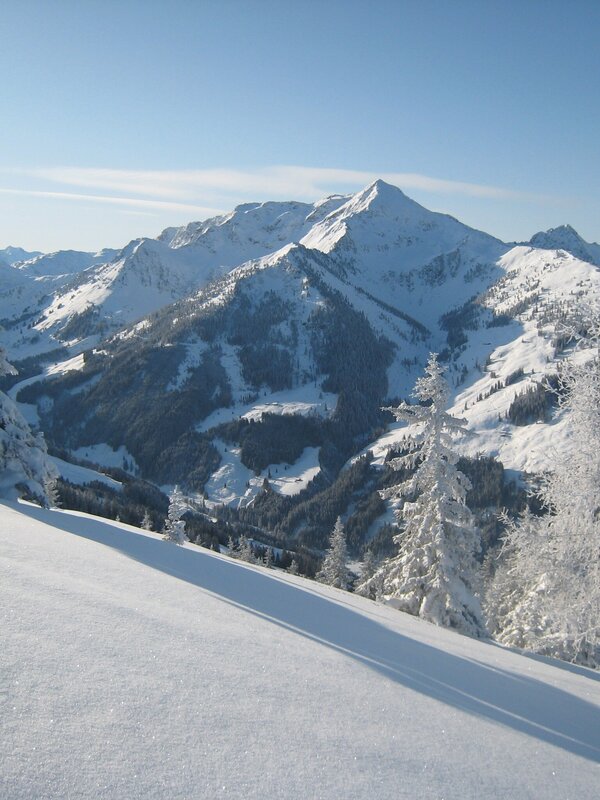 Tips for you
Good to know
There's more!
Similar tours