Walking and hiking tours
Difficulty: Easy
Stroll to the Weikart mill
Easy stroll from Alpbach village centre via the Mittlerer Höhenweg to the Weikart flour mill.
Easy walk from the village centre along the Mittlerer Höhenweg on the sunny side of the valley to the water powered flour mill. The mill is nestled in a forest clearing next to the stream.
Author's recommendation
Flour mill
Every third Saturday in the summer months the mill and Brechelstube are open to the public.
Wildbach TV series filming location
A total of 52 episodes of the Wildbach series were filmed in Alpbach and Reith im Alpbachtal from 1993 - 1997. Several locals had roles in the series. During the walk you will pass the "Kramerwirt", an old farmhouse with a "Wildbachhof" sign on the wall!
St. Oswald parish church & cemetery
The tour starts in the village centre at the St. Oswald parish church. The church and it's quaint graveyard, which according to Catholic tradition surrounds the parish church, are listed monuments. The Vienese Nobel prize winner for physics, Erwin Schrödinger (1887 to 1961) was buried here at his own request. It is easy to find his grave. Walk past the Chapel of the Dead to the left of the church entrance. His grave is in the fifth row next to the wall.
Directions
Take the road to the right of the church walk past the Hotel Alpbacherhof, cross a small bridge and take the road to the right leading down to the stream. Cross the Mühlbach bridge (to your left is the entrance tot the Mühlbachweg, the Path of Contemplation) and follow the signs for the A4 towards Stoffen. Follow the A7 (Mittlerer Höhenweg) via Stettau and past the Brechelstube and the flour mill. Take the same rout back.
Author
Alpbachtal Tourismus
Details
| | |
| --- | --- |
| Max. Altitude | 1060 |
| Start | St. Oswald parish church in Alpbach |
| End | St. Oswald parish church in Alpbach |
| Public access | A12 motorway, exit Kramsach/Brixlegg, towards Brixlegg. Alpbachtal, Alpbach, towards Rossmoos |
| Public transport | |
| Parking | at the entrance to the village |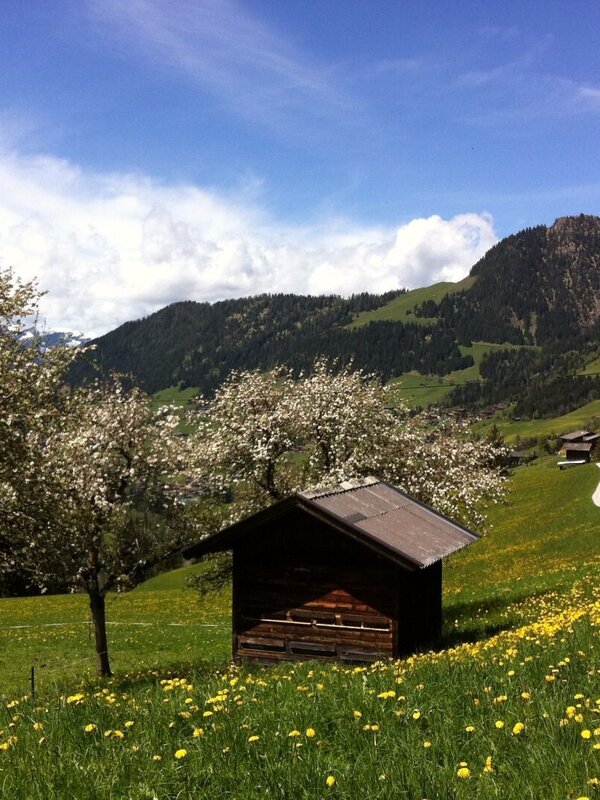 Tips for you
Good to know
There's more!
Similar tours