The biggest lake in the Alpbachtal
Lake Reintal in Kramsach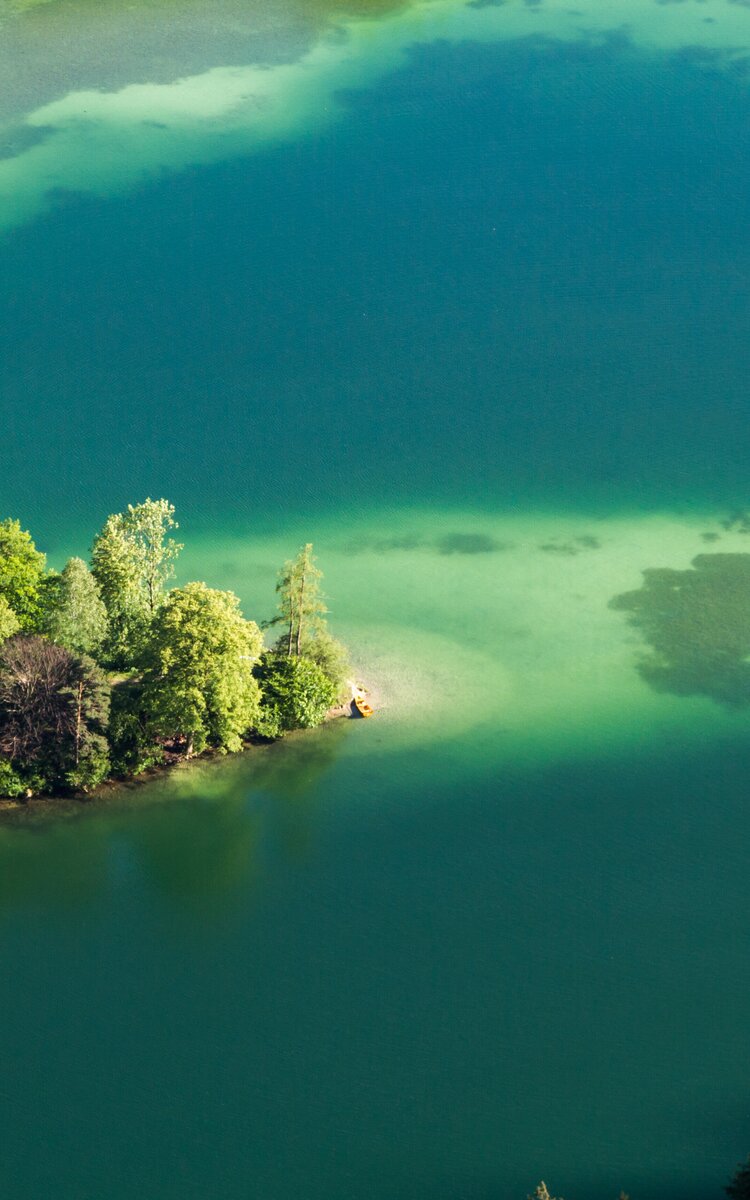 WARM LAKE FOR SWIMMING
Natural bathing lake in the Tyrol
Lake Reintal is the largest of the Kramsach lakes and, with temperatures of up to 25°C, is one of the warmest bathing lakes in the Tyrol. Well-tended sunbathing lawns, restaurants, buffets, children's playgrounds, a boat rental and camping sites ensure a great water experience.
A beautiful hiking trail leads around the lake and the Reintalersee via ferrata awaits adventurers.
NEW: Barrier-free hiking walk Reintalersee
SWIMMING AREAS AT THE LAKE AT A GLANCE
Sunbathing lawns & parking at the lake
Seenbewirtschaftung Reintalersee:
Sunbathing lawn MU beach
car park West, sunbathing lawn, playground and Toni's Seealm kiosk
Sunbathing lawn Kohlerwiese
Kohlerwiese car park, sunbathing lawn, kiosk open from June, access via ferrata Reintalersee
Sunbathing lawn peninsula
car park east and makeshift car park
Sunbathing lawn Brantl beach
car park Camping Seeblick Toni (private), sunbathing lawn, beach area, playground, restaurant & Camping Seeblick Toni
Lake rules
Other lawns:
Sunbathing lawn Fischerstube
car park Fischerstube (private), sunbathing lawn, boat rental, fishing cards, Restaurant Fischerstube and Restaurant Seerose
The Camping Seehof sunbathing lawn with playground is not open to the public and is only accessible to Camping Seehof guests!
Map
Parking fees:
Parking fees are only valid at the respective car park.
Please place the parking ticket behind the windscreen so that it is clearly visible from outside.
Lake management Reintalersee: P West, P Kohlerwiese + P Ost + P Halbinsel: € 1,00 per hour and up to € 5,00 all day.
Other car parks:P Camping Seehof: € 1,00 for two hours and up to € 4,00 all day.
P Fischerstube - for guests
P Camping Seeblick Toni - for guests
Barrierefrei am Reintalersee
Inklusion am See
Barrierefreier Wanderweg entlang des Reintalersees
Entdecke den neuen, barrierefreien Wanderweg am Reintalersee in Kramsach in Tirol. Ob im Rollstuhl, mit einem Rollator oder einem Kinderwagen - dieser Weg ermöglicht allen Besuchern ein unbeschwertes Naturerlebnis direkt am Seeufer.
Genieße die herrliche Aussicht auf den See und die umliegenden Berge, während du entlang des sanften Pfades wanderst. Der Weg ist flach, gut gepflegt und bietet regelmäßige Rastplätze zum Ausruhen.
zur Wegbeschreibung
Barrierefreier Bewegungspark am See
Am Reintalersee erwartet dich ein brandneuer inklusiver Bewegungspark, der Besucher jeden Alters zu aktiver Unterhaltung und Spaß einlädt. Dieser einzigartige Park wurde speziell entworfen, um Menschen mit unterschiedlichen Fähigkeiten anzusprechen und ein inklusives Erlebnis zu bieten. Der Bewegungspark kann auch ideal von Kindern als inklusiver und barrierefreier Spielplatz genutzt werden.
Entlang des barrierefreien Weges am See befinden sich fünf Stationen, an denen du verschiedene Fitness- und Sportübungen durchführen kannst. Hier findest du eine Vielzahl von Aktivitäten, die für alle zugänglich sind. Ob du im Rollstuhl sitzt oder einen Rollator benutzt - für jeden gibt es etwas Passendes: Inklusionskarussell, Turnringe, Rollislalom, Wackelplatte etc. - entdecke es selbst!
Der Bewegungspark bietet barrierefreie Fitnessgeräte, spezielle Rutschen und rollstuhlgerechte Sitzbereiche.
Zum barrierefreien Bewegungspark
Untenstehend findest du alle Informationen zu den Erhaltungsgebühren am Reintalersee.
Maintenance fee, season- annual tickets,...
Adults
€ 4,00 all day
from 2:00 p.m. € 3,00
Kids (6-14)
€ 2,50 all day
from 2:00 p.m. € 1,50
Family Card (2 adults + max. 5 children)
€ 10,00
dog (dogs are not allowed in the water)
€ 3,50
Barbecue area:
Open from June to September.
Use of the barbecue area must be registered and is subject to a fee (Tel.: +43 676 83521620).
Price per person from 15 years € 3,50 for 3 hours
Please bring your own charcoal, lighter and barbecue grill (open fires are not permitted).
Season tickets maintenance fee lake + sunbathing lawn:
€ 60,00 Adults, € 35,00 Kids (6-14 Jahre) available from the cashiers and at the Kramsach Tourist Office - please bring a PHOTO!
Annual park ticket
(01.01. - 31.12.) € 60,00 available at the Kramsach Tourist Office - issued on car registration plates
Included in the Alpbachtal Card: sunbathing lawn MU beach, Fischerstube, Kohlerwiese, peninsula and Brantl beaches/lidos (Camping Seeblick Toni)