Church of the Assumption of the Blessed Virgin Mary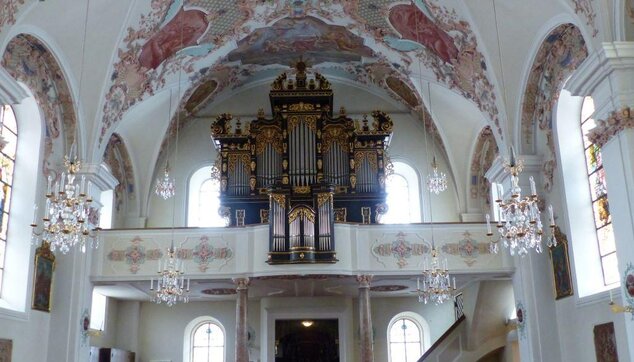 The parish church "Maria Himmelfahrt" (Assumption of the Blessed Virgin) in Kundl was rebuilt in 1734. The churches' exterior is simple, the interior, however, is of captivating elegance.

In 1734-1736, a new baroque building replaced a gothic church. In 1970, the previous buildings, mentioned in documents in 788 and dating back to the Carolingian period, were secured during excavations. The west portal, inscribed and dated 1735, contains a niche with a statue of Maria Immaculata (around 1735).
The exterior of the parish church is kept simple, but the interior is of captivating elegance:
precious stucco work in the vault and on the shield arch walls above the windows (c. 1735)
decoration, especially varied in the ornamental motifs as well as birds, busts and vases
baroque vault paintings in medallions (around 1735)
in the choir, the Temple of Mary and scenes from the life of the Virgin Mary
in the nave, the Assumption of Mary, Mary as Kundl's protector, and depictions of saints
stained glass from 1903
ceiling paintings and the altarpiece of the "Assumption of the Blessed Virgin" which was conserved from the old church characterize the interior.
Opening hours
Open all year
Please see notice board for church services
Contact
Pfarrkirche Maria Himmelfahrt
Dr. Piotr Stachiewicz
Kirchgasse 1
6250 Kundl