Jausenstation Erzherzog Johann Klause
Once again, the popular outing venue is open to the public! Michael Heim and Patrizia Daum are looking forward to welcoming many guests.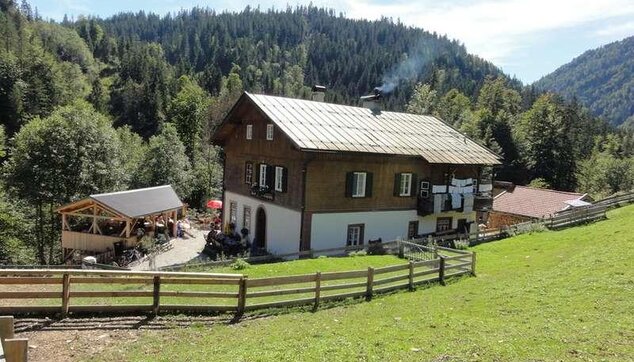 In days long gone by the Erzherzog-Johann-Klause on the Brandenberg Stream was part of a dam structure. Today the "Klause" (splash dam) in Brandenberg Tyrol, near the Bavarian border is a popular place stop for a bite to eat and something to drink.
The Erzherzog-Johann-Klause, a wood longwall construction built in 1833 as a replacement for the Kaiserklause further to the north, is named after Johann of Austria. In 1934/1935 the building's structure was reinforced by concrete columns. Once the replacement of wooden elements became necessary, an extension for a dam measuring 14 metres height was carried out in 1952/1953. In 1966 it was taken out of service. Its operation is documented in an exhibition room in the Museum of Tyrolean Farmhouses.
On foot or by bike?
The quickest way to reach the Erzherzog-Johann-Klause is on an e-bike or mountainbike!
The route along the picturesque Brandenberg Stream covers approx. 8 km and a mere 200m elevation. A well maintained forest track leads from  the Kaiserhaus alongside the stream with its many potholes, which were created through the deeply cut valley by the forces of the water.
For hikers, we recommend the beautiful route through the Kaiser Gorge, which is rich in history.
The Jausenstation Erzherzog Johann Klause is a "Alpbachtal Hüttenjause" partner!
Contact
Erzherzog Johann Klause
Michael Heim
Aschau 82
6234 Brandenberg