Bakery & cake shop Margreiter
Daily fresh bread, cakes, confectioneries and coffee.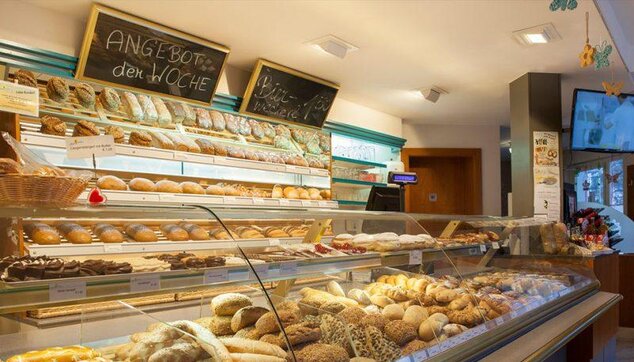 The bakery offers a great choice of bread, rolls, cakes and confectioneries. Grander water is used in all products. The use of this revitalised water makes the dough smoother, bread and pastry lighter and moister and at the same time slows the process of the baked goods becoming stale. Great care is taken in using locally sourced ingredients, only the best quality ingredients are good enough.
The cholesterol lowering Prima Vera bread is the bakery's speciality. This bread and many other types such as the Burgherren bread, the Welser farmer's bread, the Kornspitz-Landler, the Nussbrot, Hausbrot or tasty Bauernlaib are available daily, fresh from all the Margreiter bakeries. The vanilla, nougat or apricot jam filled doughnuts are worth sinning for. Delicious cake slices and cakes are also baked at the Margreiter bakery.
The Bäckerei Margreiter team can't wait to see you!
Opening hours
09/01/2023 - 31/12/2024
monday - friday
06:00 - 18:00

Contact
Bäckerei Konditor Margreiter
Andreas Margreiter
Dorf 102
6252 Breitenbach