Bayreuther Hütte
The Bayreuther Hütte - tucked away in a sun blessed spot in the Rofan Range stands on a brilliant vantage point at 1,575 metres. With overnight accommodation.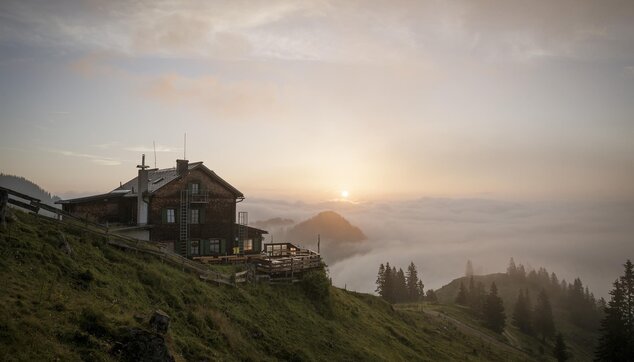 There could not be a more beautiful location for a mountain refuge hut
With fabulous views and abundant sunshine the Bayreuther Hut could also be described as an Alpine hub. It stands, so to speak, at the lofty "meeting point" of the Inntal, Alpbachtal and Zillertal Valleys. Originally built by the mountain-loving Lentsch family from Hall in Tirol as a "private hut" in 1908, it was acquired by the German Alpine Club, Section Bayreuth in 1926. Committed mountain hut proprietors have ensured that this popular and family friendly hiker's refuge hut has expanded and kept in it in excellent condition. Following a tour through the beautiful Rofan Range – for example, after a hike past idyllic Lake Zirein – the ideal place to be is on sunny terrace. Take in the splendid panorama and replenish flagging energy levels with a rewarding meal.
Well known surrounding mountains: Berger Kopf, Vorderes Sonnwendjoch, Sagzahn, Rofanspitze, Roßkogel, Heidachstellwand.
Ascent to the Bayreuther Hut
From Kramsach (approx. 3 hours); from Münster, Höllenstein hamlet via the Steinapfelsteig (approx. 2,5 hours). The forestry track from Münster, Grünsbach is ideal for mountain bikers. Expect wonderful views into the valleys and panoramas all the way to the main Alpine ridge. Built on a long Alpine ridge and flanked by the Sonnwendjoch in the west, the Bayreuther Hütte is an ideal starting point for mountain adventures.
27 beds and a dormitory sleeping 28
Opening hours
Hot meals served from 11:30 a.m. - 7:00 p.m.
Closed in winter!
Contact
Bayreuther Hütte
Anton Herrmann
Alpen 157
6232 Münster