Bikerei 701 Café - Bar - Restaurant
Cycling, charging your e-bike, e-bike service enjoying refreshing ice cream or a snack on the sun terrace. At the "Bikerei 701 Café - Bar - Restaurant" in Alpbach, e-bikes and selected culinary delights come together. An innovative concept for all bike fans!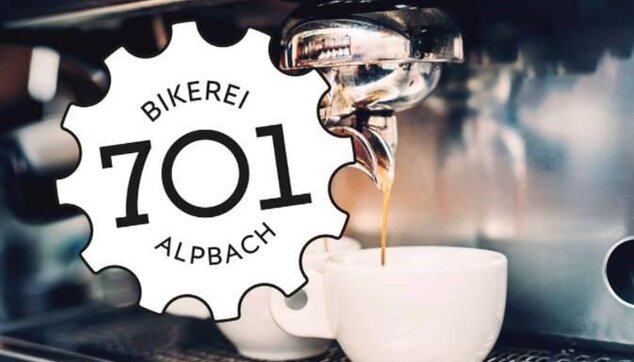 From sun terrace to workshop, the individual areas are separated by glass walls, merging into one another. You can see from the café-bar-restaurant area directly into the shop.
Enjoy an afternoon ice-cream, coffee and cake or book a table for the evening in the restaurant.
The Bikerei 701 / Rent a Bike workshop is independent of brands and stocks all kinds of motors for e-bikes. Around 100 bikes as well as fullys or e-bikes with child trailers are readily available for daily rental via Rent a Bike. All cycling equipment from helmets to gloves to glasses can be rented.
24/7 E-Bike hire: in addition to the standard rental offer, six E-bikes outside the building to rent via an App - from € 10,00 per hour.
Present your Alpbachtal Card and benefit from a € 3,00 discount!
Opening hours
01/12/2023 - 14/04/2024
saturday & sunday
07:30 - 11:00

01/12/2023 - 14/04/2024
wednesday - sunday
15:00 - 23:00

Hot meals are served until 9:00 p.m.
Contact
Bikerei 701 Café - Bar - Restaurant
Carmen Haller
Alpbach 701
6236 Alpbach