Jausenstüberl Oberthaler
Charming farm situated at 1.225m above Alpbach with an inviting balcony offering beautiful views over Alpbach. The owner bakes delicious cakes and a glass of milk is an ideal accompaniment.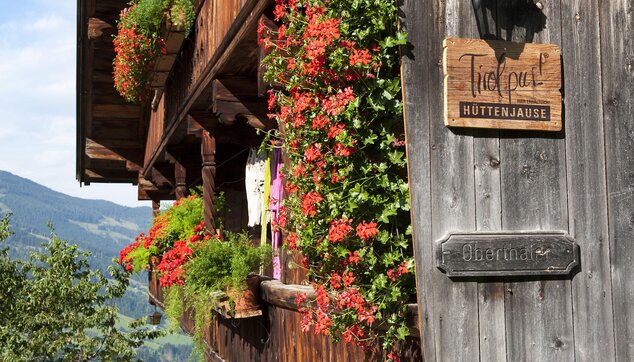 The Oberthalerhof in Alpbach, is a charming farm with an lovely old farmer's parlour and beautiful views towards the Wiedersberger Horn and Schatzberg. Seated on the balcony terrace, take in the marvelous views.

Try one of the homemade cakes, a glass of fresh milk or the Alpbachtaler Hüttenjause platter.

Summer
To reach the Jausenstüberl Oberthalerhof take the path from the village via Thierberg, Lärchenweg and Blaiksteig towards the Hösljoch. Walking time approx. 1 hour. Alternatively you can drive to the Oberthalerhof!
Winter

In winter, the Jausenstation Oberthaler is a perfect starting point for ski touring or snow shoe walks via the Hösljoch in Alpbach.
You can also stay overnight in one of the 400-year old farmhouses' double rooms.

The Moser family can't wait to welcome you to their home!
The Jausenstatuion Oberthaler is a "Alpbachtal Hüttenjause" partner!
Opening hours
02/05/2023 - 08/12/2023
monday - friday
10:00 - 18:00

08/01/2024 - 06/12/2024
monday - friday
10:00 - 18:00

Contact
Agnes Moser
Alpbach 116
6236 Alpbach