Kaiser Gorge
Fascinating hike through the Kaiser Gorge carved out by the stream's waters.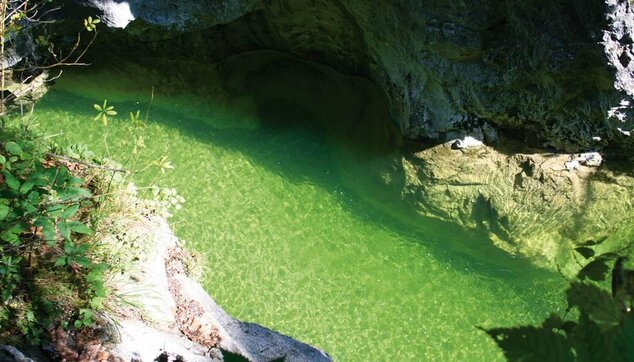 Timber was a major source of income in the Brandenberg valley until the 20th century. The rushing stream waters were used to drift logs down the valley. Thanks to the trails made by lumberjacks over the centuries the Tiefenbach and the Kaiser Gorges are accessible to the public.
Although the trails are suitable for children, great care should be taken! Safety harness rentals for children are available at the Gasthaus Kaiserhaus (refundable deposit: € 20,00) free of charge.
Hike through the Kaiser Gorge
The approx. 1km long route from the Kaiserhaus to the end of the gorge takes approx. 30 minutes. Take the gorge path or the forest road back.
Please obey safety rules when walking with children!!!
Climbing belts and safety harnesses for children can be hired at Gasthof Kaiserhaus in Brandenberg or at Sport Ossi in Kramsach (refundable deposit: € 20,00).
Sturdy shoes, surefootedness and a good head for heights are necessary. Gorges are not exempt to Alpine dangers. In case of bad weather, we strongly recommend not to hike through gorges.
Due to safety reasons, the gorges are not accessible between November and April and on days with heavy rain.
Parking subject to charge
At the entrance to the Kaiser Gorge the parking metres accept cash and bank/credit cards.
Up to 6 hours: € 3,00
Full day:         € 5,00
Bus full day:   € 10,00
Opening hours
Due to safety reasons the gorges are closed on days with heavy rainfall.

Price information
Free admission
Contact
Kaiserklamm
Furt (Aschau)
6234 Brandenberg