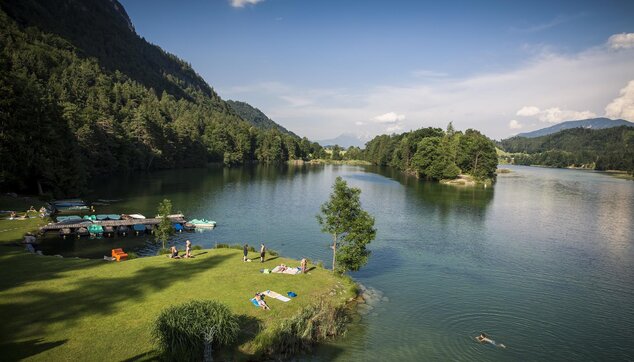 Lake Reintalersee is the largest of the Kramsach Lakes and is considered one of the Tyrol's warmest bathing lakes with temperatures around 25°C. There are well maintained sun lawns, restaurants, buffets, a children's playground, boot rental and camping sites on site. A pleasant walking path leads around the lake (approx. 1 hour).
Some facts: the 29,4 ha large lake is divided into three basins, the deepest basin is at the eastern end of the lake and measures 10,3 m in depth.

Fishing:
The bait has to appeal to the fish and not to the fisherman, so one says. So if you like to "take worms for a swim" or if your hunter instincts call, when a trout jumps out of the water, why not buy yourself a fishing card.
For information contact Mr. Grünauer at the Restaurant Fischerstube, Tel. +43 676 5560228
Opening hours
01/05/2023 - 30/09/2023
monday - sunday
08:00 - 19:00

Price information
Use per day
Please note parking fees apply!
Free admission to the lake with the the Alpbachtal Card at all designated beaches and at the restaurant Fischerstube.
Adults: € 4,00
Children: € 2,50
Dogs: (please note: dogs are not allowed in the water) € 3,50
Contact
Seeverwaltung
Moosen
6233 Kramsach