Sport Ossi
Whilst white water swimming, tube riding, kajaking in the Tyrol. All these outdoor activities can be booked through Sport Ossi in Kramsach!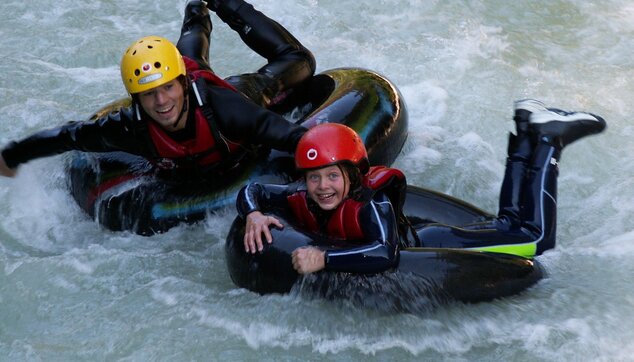 Fun and adventure for young and old alike!
Tubing - Brandenberg Stream
Aided by inflated lorry tyre inner tubes you swim down the Brandenberg Stream. Fun, action and nature undiluted included. The family tour is an approx. 1,5 kilometre long ride downstream. The ultimate highlight is the 3,5 km long "XL Action Tour". In temperatures ranging between 6 – 17°C, wetsuits are a must. Proper white water equipment and experienced guides ensure everyone has a safe and adventurous ride
Wild water swimming through the Kaiser Gorge
Clothed in the appropriate gear (wetsuit, helmet, gloves, and shoes) and following a guide along the Brandenberg Stream, jump into the current, swim, walk and you're smack in the middle of exciting white water sports. You should bring along the love of water, be sure-footed and have no inhibition about jumping into the crystal-clear waters. The experience teaches you that the objective was not to overcome the steams force, but to rejoice in discovering one of earths most beautiful spots.
Rafting 
Paddling downstream as a team is great fun. The qualified skippers ensure you enjoy the adventure and the beauty of Tyrol's splendid rafting routes. Soft rafting along the River Inn offers a more gentle approach and is an ideal initiation or beginner's tour for the entire family. Exhilarating rides in cool waters can be braved in the Imst Gorge on a 17 kilometre long paddle down this stunningly pretty natural stream course. Adrenaline junkies will no doubt get their kick on a trip down the Ötztal Stream, which is a world cup route.
Kayaking courses
Learn the basic techniques and how to act when in white waters on an initiation course. Sport Ossis Wildwasserzentrum takes care of budding and advanced kayakers. First paddling experiences can be acquired in Kramsach. Once you have mastered the act of controlling the kayak the adventure in the Brandenberg Stream's white waters can start. While some hike the gorges, kayakers plunge down one of the most beautiful and difficult torrents in the Alps.
Archery
Guided hiking tours with Sport Ossi
Equipment is provided for all activities and is included in the prices quoted. All activities are held under the supervision of experienced, qualified guides.
Opening hours
01/05/2023 - 15/10/2023
monday - sunday
08:30 - 10:00

01/05/2023 - 15/10/2023
monday - sunday
16:00 - 18:00

The published opening times are office opening hours. For times for courses please visit the Website or give Sport Ossi a call!
Price information
Advantages with your Alpbachtal Card - summer 2023:
White water tubing action for adults: € 55,00 instead of € 59,00 p.p. - min. 4 participants!

White water tubing action for youths (up to age 15 years): € 49,00 instead of € 55,00 p.p. (special action course) - min. 4 participants!
Familiy rafting for adults: € 49,00 instead of € 55,00 p.P. incl. two transfers - min. 8 participants!

Familiy rafting for youths (up to age 15 years): € 45,00 instead of € 49,00 p.p. incl. 2 transfers and photos - min. 8 participants!
Contact
Sport Ossi e.U.
Mei-Maria Stock
Wittberg 105
6233 Kramsach