Wirtshaus zum Kaisermann
The Kaisermannhof is approx. 700 years old and the presumably oldest building in Kundl. Since 1928 the inn is run by the Oberhammer/Kröll family.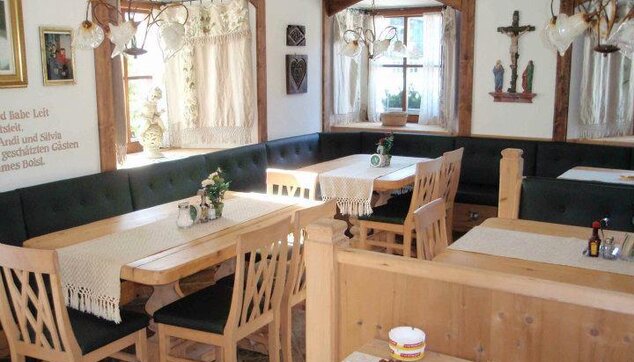 In 2006, the inn was then handed over to Resi, the daughter of the house. Resi and her husband Johann, together with their children, fulfilled their lifelong dream and opened the Zum Kaisermann inn as a family business in 2008 after extensive renovation and restoration work. Special thanks goes to Resi's mother - Theresia Oberhammer - who, with her creativeness helped apply detailed attention to the restoration work.
Since the completion, you can enjoy homemade Tyrolean delicacies in the newly erected conservatory or in one of the cosy Stub'n.
In 2010, the existing cellar vaults at the Zum Kaisermann inn were converted into a quaint, natural wine cellar that can be booked for celebrations of any kind for 10-12 people. In the picturesque wine cellar, the Kaisermann team will spoil you with fine wines - an unforgettable experience.
Whether you are a hobby historian or simply enjoy good food, you will not be disappointed. Hidden treasures reveal themselves on a tour through the historic building.

The Oberhammer/Kröll family and their team can't wait to welcome you to their inn!
Opening hours
31/03/2023 - 31/12/2024
wednesday - saturday
10:00 - 00:00

Open from 9:00 a.m. - 10:00 p.m. on public/bank holidays. Please call for reservations!
Hot meals served from 11:00 a.m. - 9:00 p.m.
11:00 a.m. - 2:00 p.m. normal menu
2:00 - 5:00 p.m. reduced menu
5:00 - 9:00 p.m. normal menu
Lunch specials
Wednesday - Friday 11:00 a.m. - 2:00 p.m. 
Salad buffet
Soup
main course: choice of 3 menus
Contact
Wirtshaus zum Kaisermann
Andreas Kröll
Biochemiestraße 21
6250 Kundl