Walking and hiking tours
Difficulty: medium
Eagle Walk Stage 06: Pinegg - Steinberg am Rofan
This stage of the Eagle Walk from the Gasthof Gwercherwirt to the Gasthof Waldhäusl in Steinberg am Rofan is easy but still rewarding.
Up high in the Alps, close under the sky, the Eagle Walk runs from east to west through the whole of the Tyrol. The course of the trail resembles the silhouette of an eagle soaring in the skies with its wings spread wide.
The 413-kilometre trail is broken up into 33 stages with a total elevation gain of 31,000 meters, accommodating a variety of skill levels and hiking preferences. Divided into 24 stages between the Kaiser Mountains and the Arlberg in North Tirol and a further nine stages between the Venediger and Großglockner peaks in East Tirol, the Eagle Walk offers endless hiking opportunities.
Those who take on the long-distance hiking adventure will love the Eagle Walk's diversity. The trail leads through the different mountain range. Long-distance hikers, experienced mountaineers and alpinists wanting to discover the country will be thrilled by the variety and summit victories. Alpine experience, surefootedness and a head for heights are the prerequisites for many stages.
Additional information
Eagle Walk details: tirol.at
Author's recommendation
Enjoy the section between "Reischer" and Steinberg!
Safety guidelines
Please be careful, you may encounter traffic on the forest tracks!
Directions
Pinegg - cross two bridges over the Brandenberg and Steinberg Streams - continue hiking up through magnificent woods on a hiking trail that eventually merges onto a forest road and rejoins the Jägersteig Path, taking you to Aschau - walk through the village along the main road up until shortly before the Gasthaus Haaser - walk up the Burgstall Valley to the "Wimm" farm - after the pasture grate, turn right and follow the signs to the Wimmjoch (ideal spot to have a picnic) - continue walking to the left and downhill towards Lahnalm - shortly before reaching the hut, follow the signs for Weißenbachgraben - cross the Weißen Stream, the boundary between the communities of Brandenberg and Steinberg - walk to the Enter farm, an imposing farmstead that offers farmstay accommodation - bear left and take the road leading down to the "Steinberger Loch" - once more cross the Steinberg Stream - bear rigth onto the Hinterberg trail and follow it northward until you reach Vordersteinberg. - cross the road and continue walking along "Bärenwald" trail - stay on this lovely trail that will take you to the end of this hike, the Waldhäusl Inn at the western outskirts of Steinberg. This quaint Inn is a lovely place to spend the night.
Author
Alpbachtal Tourismus
Public transport connection
Details
| | |
| --- | --- |
| Max. Altitude | 1323 |
| Start | Gasthof Gwercherwirt |
| End | Gasthof Waldhäusl, Steinberg |
| Public transport | vvt.at bus no. 4070 |
| Parking | Gasthof Gwercher, Brandenberg/Pinegg |
| Equipment | Hiking boots and suitable clothing, sufficient food and drinks |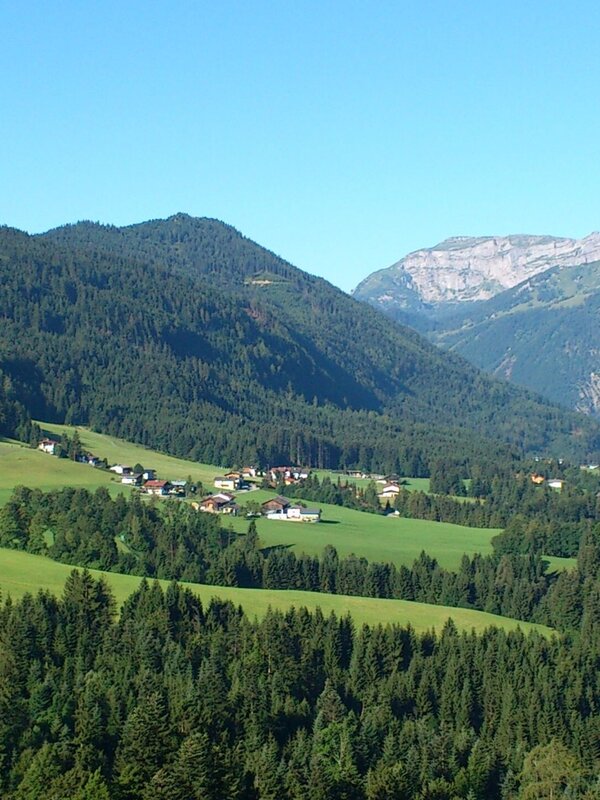 Tips for you
Good to know
There's more!
Similar tours