Walking and hiking tours
Difficulty: Easy
Kramsach Lake Walk
Family friendly walk past bathing and playing areas
This easy walk that starts in Kramsach leads to the lake plateau and is perfect for families!
Arrival by public transport: get off at the Kramsach Gemeindeamt bus stop, cross the bridge and at the chapel take the path leading straight ahead.
Arrival by car: free parking on the pgravel parking lot next to the primary school (Volksschule) in Kramsach. At Lake Reintal you will find bathing areas, playgrounds, restaurants and more. A path leads via the Haflingerhof the along the lake and through the woods towards Lake Krumm and back to Kramsach village centre.
Additional information
Author's recommendation
The playground at the Haflingerhof offers plenty of distraction for young hikers and the home-made ice cream is delicious!
How about a small boating trip? Boat hire at the Fischerstube on Lake Reintal
For the energetic, a further lake to walk to is the picturesque Lake Berglstein. The family friendly "Leichter-Lernen-Wanderweg" (exercise suggestions improve learning and concentration abilities for old and young) leads to this pretty lake nestled in the woods. > Tour details!
Directions
Starting from the Gemeindeamt/tourist office in Kramsach cross the bridge and walk straight ahead along the Fuchsbichl path to "Stoffl" (Pension Christoph). Walk past a small chapel and keep to the right walking through the woods to the Windhag farm. Keep to the right at the farm and follow the path to Lake Reintal. There are some playgrounds at the camping sites and the lake bathing beaches. The route back leads past the Haflingerhof alongside Lake Reintal. At the bathing lawn, take the path through the woods – the Windhag farm is to the left - and walk between two lakes, Lake Krumm and Lake Buch. At the water wheel turn left, walk through "Seebühel" and back to the starting point.
Author
Alpbachtal Tourismus
Details
| | |
| --- | --- |
| Max. Altitude | 585 |
| Start | Kramsach/village centre |
| End | Kramsach/village centre |
| Public access | A12, motorway exit Kramsach/Brixlegg, towards Kramsach, Kramsach centre |
| Public transport | Kramsach Gemeindeamt bus stop |
| Parking | Gravel car park next to the primary school (Volksschule) in Kramsach - free of charge! |
| Equipment | Sturdy shoes |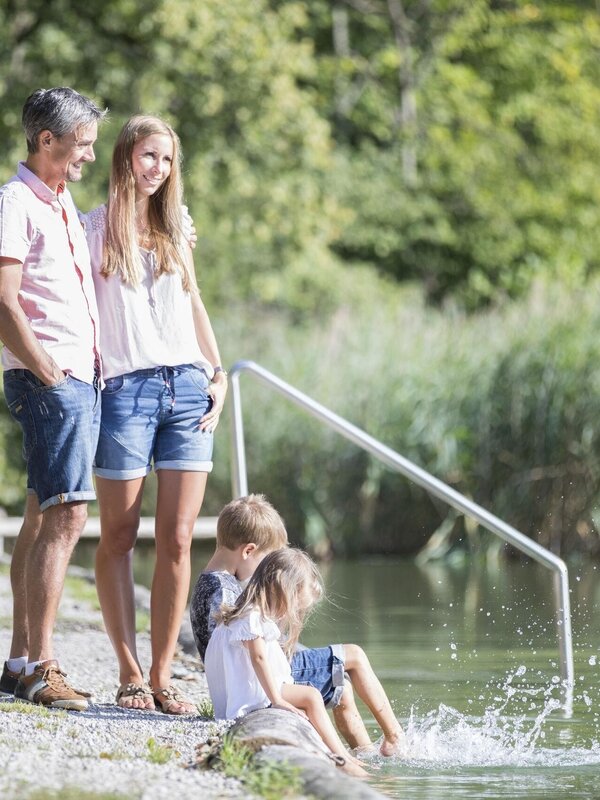 Tips for you
Good to know
There's more!
Similar tours