Road Cycling
Difficulty: Easy
Road bike 03 Angerberg
A moderate tour through the Inn Valley with few climbs and therefore ideal for anybody who is new to road cycling.
TVB Tour 3 - ANGERBERG
Distance 59 km
Elevation gain 630 m
Gradient max. 10 %
Best time Spring – late autumn
Grading moderate to hard
Additional information
Bike & mountain bike shops
Safety guidelines
Right-hand traffic in practice. Please obey the highway code, road safety and vehicle rules. Please bear this in mind you'll be sharing roads with traffic.
Directions
Rattenberg – Wörgl – Angath – Niederbreitenbach – Mariastein – Angerberg – Breitenbach-Kramsach – Rattenberg
0 km (from the start) start Rattenberg, Notburga fountain Northwards to Kramsach turn right after 200 m, after a further 800 m keep left
7,48 straight Kundl, cross the L 48 cross the L 48 after 900 m turn right into an underpass turn left after 100 m and left again after the wooden bridge after 700 m turn left and right after the underpass
11,3 ! left ! Turn-off, after 250 m right after 400 m 2nd exit at the roundabout continue along the road
14,6 left Wörgl, turn-off Ferdinand Raimund Straße turn right after 700 m, turn left crossing the bridge at km
16,4 left onto the L 213
16,9 right Angath, turn-off onto the Untere Dorfstraße follow the road to Oberlangkampfen
20,5 left Oberlangkampfen, turn-off turn left after 1000 m onto the L 211, turn right after 300 m onto the Hupfaufweg
23,3 sharp left bend Unterlangkampfen, Burgstraße junction sharp left to Niederbreitenbach
25,0 right Niederbreitenbach, L 211 junction to Mariastein
27,6 left Mariastein, turn-off, to Baumgarten
30,0 left Baumgarten, L 213 junction to Angath
31,2 ! right ! Turnoff, leave bend to the right turn right after 800 m, turn left after a further 800 m 2,3 km along the road
35,1 right Glatzham, L 211 junction 1,8 km to Angerberg
36,9 ! left ! L 211 turn-off at the small chapel 2,6 km along the road
39,5 left junction 2,1 km to Schönau
41,6 left Schönau, turn-off turn right at km
43,3, turn right after a further 900 m continue along the road 45,8 ! right ! Kleinsöll, L 211 junction to Breitenbach turn left at km 47,5
48,0 straight Breitenbach, roundabout 2nd exit L 211 to Kramsach
56,7 straight Kramsach to Rattenberg
58,9 finish Rattenberg
Author
Manuel Hufnagel
Details
Max. Altitude
683
Start
Rattenberg, town main square fountain
End
Rattenberg, town main square fountain
Public access

Leave the motorway at the Kramsach/Alpbachtal exit, turn left towards Brixlegg/Rattenberg. Take the third roundabaout exit. Rattenbergs car parks are to the left and right after 400m (partly free of charge).

- or by bike https://radrouting.tirol/

Public transport

Train station nearby

Parking
By train to Rattenberg train station, by car to one of the parking areas in Rattenberg (east or west).
Equipment

Helmet, sun glasses, gloves, rain proof clothing, bike outfit, first aid kit, replacement inner tube, tire lever, bike pump or cartridge, mobile phone, cash, bank card, drinking bottle, energy gel or bar, cap or bandana, leg and arm warmers.

In any case - adapted to the time of year.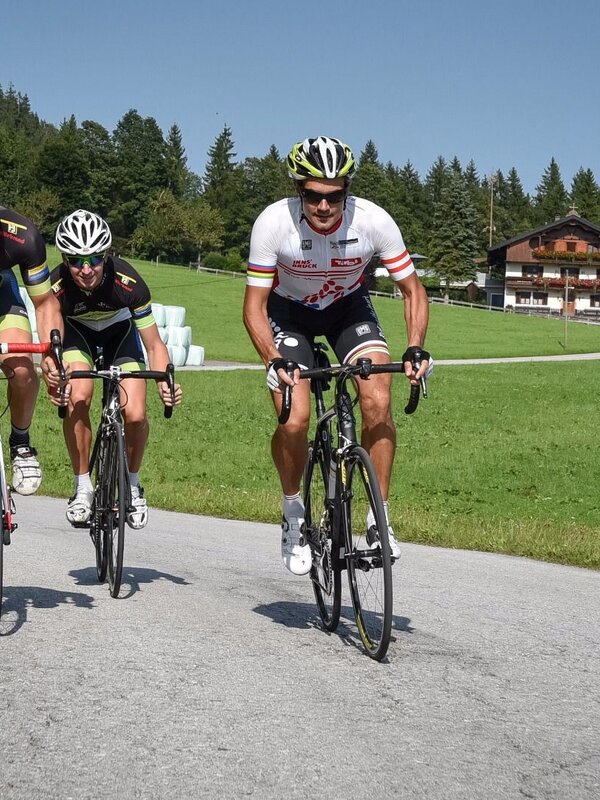 There's more!
Similar tours