Snowshoe walking
Difficulty: medium
Snowshoe hike to the Labeggalm Brandenberg
Easy snowshoe hike from Wimm (Brandenberg) through picturesque snow covered Alpine pastures, the Eilalm and the Labeggalm.
The tour starts at the Wimm farm near Aschau in Brandenberg and leads through extensive terrain to the Eilalm and Labeggalm Alpine pastures.
The first part of the hike takes you to the Eilalm: from the Wimm farm, walk alongside the fenced-in road in a south-westerly direction (follow the signs for Eilalm-Labeggalm) through a forest to the open Alpine pastures to the north-west of the Pramakopf. Continue past a large farm building and along the road, the trail leads up to the Eil-Alm (1390 m).
Allow yourself a short break, the next destination is the Labeggalm: at the Eilalm, keep left below an intersection and hike diagonally southwards across Alpine pastures up to a saddle. Trek up the broad ridge on the right, a shortcut avoiding one bend in the road, to Anderl's Almhütte. Stay on the broad, almost tree-free ridge and hike further uphill to a large intersection (1595 m) with a bench group on a hill above the Labeggalm pasture area. After a well-deserved break, descend across the wide alpine meadows to the Labeggalm (1545 m).
Descent: from the Labeggalm, follow the road back to Anderl's Almhütte and hike along the ascent route back to the Wimm farm.
Author's recommendation
Technically easy – an ideal tour for beginners
Take a break and admire the beautiful landscape from the bench above the Labeggalm.
Safety guidelines
With the right choice of track avalanche risks are minimal. Please consult the avalanche bulletin before setting out!
Directions
Wimm - Eilalm - Anderls Almhütte - Labeggalm - and back
Author
Alpbachtal Tourismus
Details
| | |
| --- | --- |
| Max. Altitude | 1581 |
| Start | Aschau, Wimm car park |
| End | Aschau, Wimm car park |
| Public access | A12 motorway exit Kramsach, towards Kramsach, take the first exit at the roundabout and the immediate left. After approx. 900 m, turn left before the bridge towards the Sonnwendjochbergbahn (defunct chairlift) and up the Brandenberg Valley to Aschau (approx. 10km). Turn left at the beginning of the village towards the village centre. Take the left after approx. 190m and  the right hand turn approx. 190m after the fire brigade building. Follow the narrow mountain road (winter tyres and possibly snow chains) to the Wimm farm, approx. 3,6 Km from turn-off. |
| Parking | parking fees apply at the Wimm farm car park (€ 3,00 - as of 2021) |
| Equipment | Snowshoes, poles, suitable winter clothing. |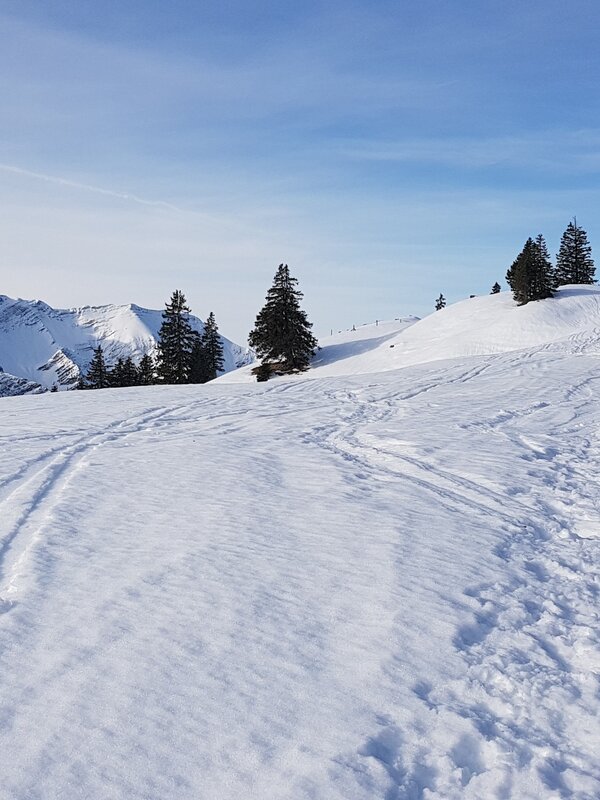 Tips for you
Good to know
There's more!
Similar tours