DISCOVER TYROL ON A ROAD BIKE
Road bike routes in the Alpbachtal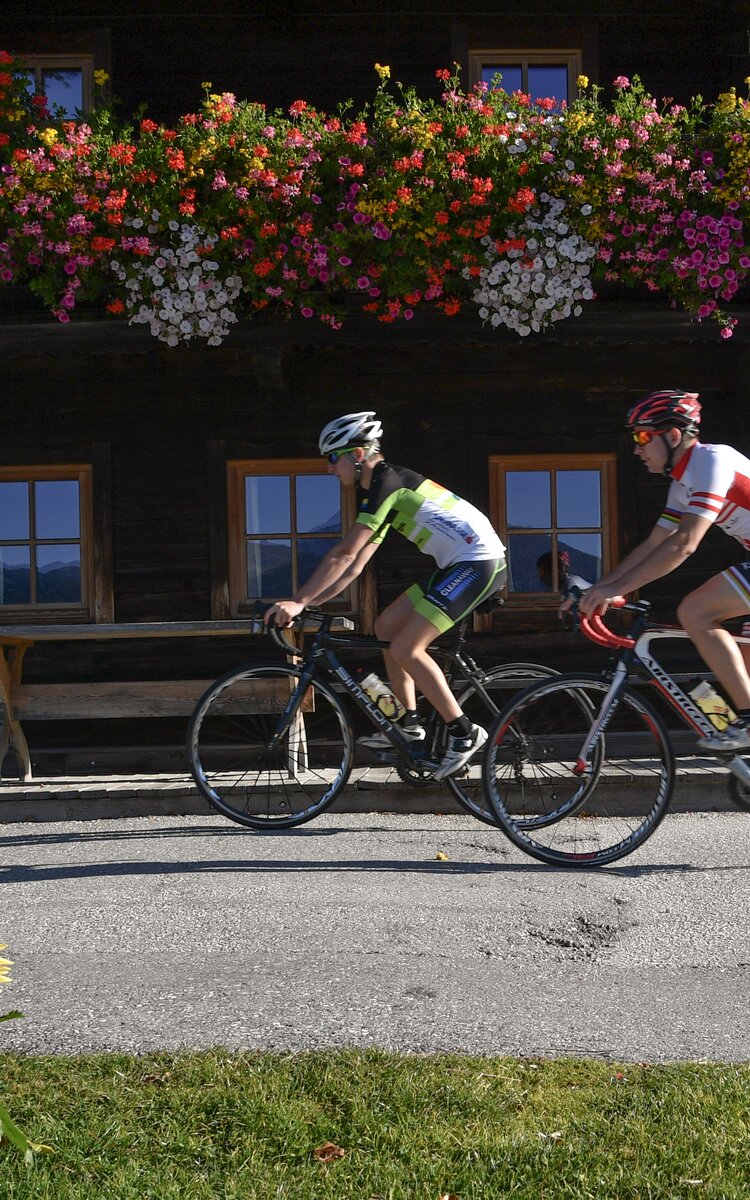 23 TOURS TO MAKE YOUR HEART BEAT FASTER
Road cycling in the Alpbachtal
The Alpbachtal holiday region is an ideal starting point for varied racing bike tours in the Tyrol. You will find the right tour for every level of fitness. There are 23 road bike tours to choose from, all of which start centrally in Rattenberg, the starting point for the 2018 World Road Cycling Championships.
EASY RACING BIKE TOURS
A gentle start whilst enjoying the panorama
The Inn Valley is wider and more varied in the Tyrolean Unterland than in the Oberland and the hunt for kilometres on the flat is easier. There are five easy road bike tours to choose from. Whether for beginners or for experienced road cyclists who want to do an easier tour at the beginning of the season.
MODERATE TOURS
The classic road bike tours in the Alpbachtal
After the warm-up comes the main part. No less than ten moderate road bike tours start in Rattenberg and lead road cyclists into idyllic Tyrolean side valleys, to Kufstein or around the Wilder Kaiser.
The Brandenberg Valley is one of the most romantic side valleys in the Tyrolean Unterland and is excellent for exploring on a road bike. The quiet, well-paved road leads moderately uphill along the Brandenberg Stream. The idyllic hamlet of Pinegg alone is worth taking this easy to moderate tour. It is recommended to ride the loop clockwise, as the left side of the stream is less frequented. Afterwards, the route leads eastwards via the Kramsach lake plateau to Breitenbach and back again. The loop covers 44 kilometres and 810 metres in altitude.
CHALLENGING RACING BIKE ROUTES
Road bike tours that demand everything of you
The eight difficult/challenging road bike tours starting in the Alpbachtal will make every biker's heart beat faster, because even top riders will work up a sweat on tours with up to 3,300 metres of altitude and 100 km of route.
Any cyclist looking for a varied day tour including a detour to Bavaria should set out on the royal stage "Five Lakes Loop". 150 kilometres and 1.750 metres elevation gain lead through magnificent countryside. The tour starts from Rattenberg via the Kramsach lake plateau, Angerberg and Maria Stein along a quiet country road to Kufstein. The route continues uphill to Thiersee and on to Bayrischzell; further towards Schliersee and Spitzingsee. Cycle back to Rattenberg. via the crystal-clear Achensee.