Gourmet Restaurant Fuggerstube
2 Gault & Millau toques - culinary delights are served in the historic Fuggerstube in Der Böglerhof - pure nature resort in Alpbach.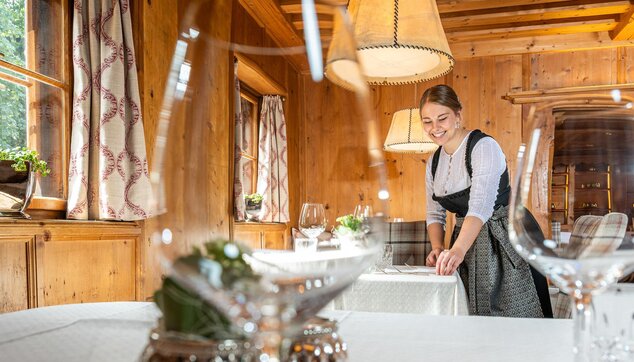 Historic Fuggerstube - Gault & Millau toque-awarded fine dining
The historic Fuggerstube in the Der Böglerhof - pure nature resort is located in the centre of Alpbach, the "Austria's Most Beautiful Village" and has been awarded two toques by Gault Millau. From Thursday to Saturday you can enjoy regional delicacies with the exclusive 4- or 7-course menu "Austria's Delights". The entire basket of goods for the menu comes from Austria. Of course, the menu can be prepared vegetarian on request and served with a matching wine accompaniment.
You can find the current menu here!
Interesting facts about the history of the Fuggerstube
The atmosphere in the Fuggerstube is unique. It dates back to the 15th century, has survived two fires and is still in its original condition. Its name dates back to the time when the Fugger family of Augsburg mined silver and copper in Alpbach. At that time, the Der Böglerhof - pure nature resort was the property of the Fuggers and the Fuggerstube was the courtroom for the miners. The history of the Böglerhof as a place of hospitality and meeting goes back a long way. The Fuggerstube was a brandy tavern for a long time - so it has always been a popular meeting place. Opposite the Fuggerstube there is still an old, solid iron door that led into the silver warehouse. This iron door and the Fuggerstube are reminders of the long history of the house.
Opening hours
Thursday to Sunday, a 4- or 7-course menu is served in the Fuggerstube gourmet restaurant.
Contact
Der Böglerhof - pure nature resort
Johannes und Michaela Duftner
Alpbach 166
6236 Alpbach