Hösl Chapel
The Hösl chapel located on the Hösljoch was built in 1893 in place of a previous building destroyed by floods.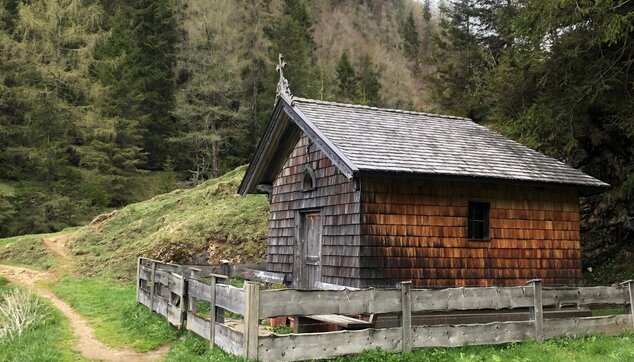 The Hösl Chapel stands directly at the crossing to Thierbach in the Wildschönau - the Hösljoch. The chapel was built 1894 by Johann Moser (Oberhausberg) after the old one had been destroyed by a flood and restored in 2008.
At the centre of the altar is Our Lady of Sorrows "Mater Dolorosa" pierced by a sword, a reminder of Mary's lifelong sorrow for her Son Jesus Christ. The image of Mary and the altar survived the flood of 1893.
A memorial plaque tells the story of two maids who were killed in an avalanche on 5th February 1888 on their way from Alpbach to the Wildschönau.
Holy Mass is celebrated on certain days, e.g. at Sacred Heart. The chapel is looked after by the Kostenzer family (Oberhausberg).
Starting from the Thaler car park, a Mary Pilgrimage Path leads to the chapel.
Contact
Höslkapelle
Kostenzer
Alpbach 123
6236 Alpbach