Lake Zirein
The legendary Lake Zirein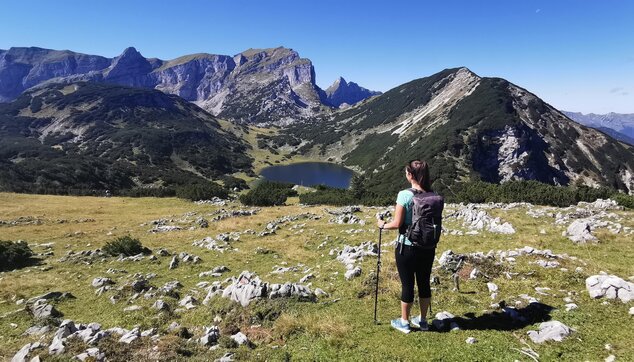 Our favourite
The viewpoint from the foot of the Rosswies plateau with the Rofan backdrop
It is one of the most beautiful mountain lakes in Tyrol and lies idyllically in a valley basin, in the middle of the impressive Rofan Range. From the lake you have a fantastic view of the Rofan massiv with the mighty Rofan tower as a highlight. There are various ways to hike the beautiful Lake Zirein - the tours are demanding, but you will be rewarded with fantastic views. Along the tour you can get refreshments at rustic mountain huts.
Tour tips:

Hike from the Aschau-Wimm car park in Brandenberg (hiking time: 3 hours to the lake)
By e-bike via the 8 km long forest track from Münster-Grünsbach to the Bayreuther Hütte. From the hut the lake can be reached in one hour.
Places to stop for something to eat and drink: Anderl´s Almhütte, Berglam or Bayreuther Hütte.
The Lake Zirein legend: "Clay from Lake Zirein"

Once, a shepherd lived close to the lake. He wanted to renovate his hut and therefore needed some clay. Suddenly a little man came and ordered him to get some clay from behind the hut. The shepherd knew the area very well and had never found clay there. He was a bit surprised, but he did what he was asked and surprisingly he found plenty of clay. He could not only repair his house but also was able to build a new stove.
And the next morning another surprise was waiting for the shepherd. The walls and the stove had turned into gold. The shepherd tried to find more clay, but this time he was not successful - "the golden earth" was gone for good.
Enough storytelling for now – visit Lake Zirein and feel the special energy and vibes radiating from this natural gem.
Opening hours
Hikes to Lake Zirein depend on terrain conditions (snow)
Contact
Alpbachtal Tourismus
Zentrum 1
6233 Kramsach