Pilgrimage Basilica Mariathal
The Dominikus pilgrimage church is situated in Mariatal in Kramsach.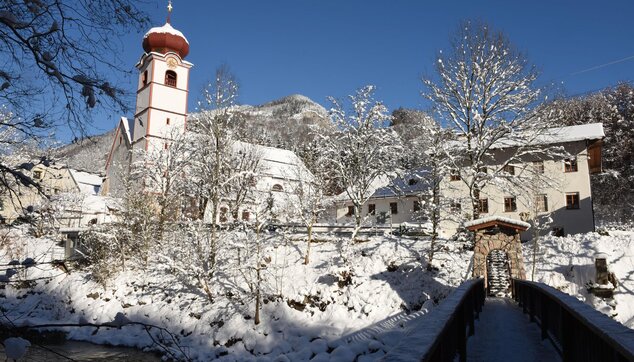 The catholic pilgrimage church is a wonderful example of baroque building style. The interior is characteristically kept in the colours black and gold.
The Way of the Cross along the old monastery walls leads up to the Kalvarienberg. The 12 artistic representations were designed by Birgit Riedel. 
Mariathal epistle
According to the Mariathal epistle, the two brothers Konrad and Friedrich von Fruntsberg – both knights – in 1267 gave the order to erect a church as burial site for the parents.
The church and the adjacent convent were taken over by the Dominicans from Altenhohenau in Bavaria, who prayed for the eternal salvation of the deceased Fruntsberg family members. To this day, the family tomb is still at the chancel.
Mid 15th century the Fruntsberg family moved to Mindelheim in Soutern Germany and the convent with all properties was made over to the Dominican Order.
A large part of the church was destroyed by a fire in 1682. It was then restored in baroque, classicist style, which was at that time, was rare in the area.
Regarding the interior decoration, the master was bound to the Dominican Orders characteristic black and gold.
Mariathal Basilika founding legend
The knight Berthold von Fruntsperg wanted to wake his brother early in the morning for a joint hunt. He cocked his bow and aimed at his brother's bedroom window. Unfortunately, the latter opened his window just at that moment and was fatally shot by the brother's arrow.
Plagued by remorse, Berthold was wandering in the uninhabited forests of the Brandenberg valley when he suddenly found the image of the Sorrowful Vigin Mary on a tree. He had the erected Mariathal monastery erected at exactly this spot. The Fruntsperger knights tomb can still be found in the chancel.
The image of Mary is venerated in the Chapel of Grace of the parish church. A great pilgrimage with candlelight procession is held during the winter months (November to April) every 13th of the month.
Tip
The Kramsach sculpture park close by is a short walk away. The unusual exhibition site next to the Brandenberg Stream with works created by the well-known Kramsach artist and Gironcoli pupil Alois Schild is appreciated by art lovers.  
Opening hours
Open all year
Please see notice board for church services.
Contact
Wallfahrtskirche Mariathal
Pfarrprovisor Martin Schmid
Mariathal 16
6233 Kramsach