Restaurant Dopolavoro
Sophisticated, predominantly Italian fare with an international specialist wine list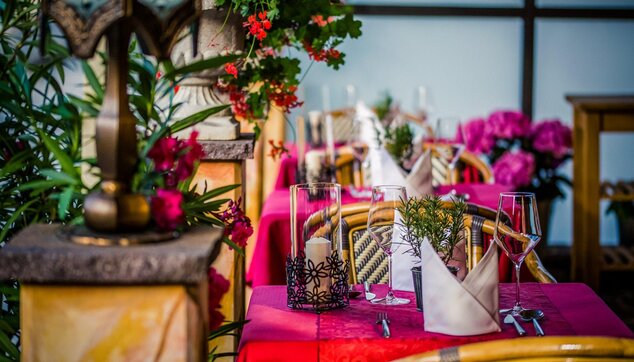 Historically, railway workers liked to meet for a glass, a good meal in company, either in the station restaurant or nearby. They all celebrated their "Dopolavoro" - as it was called in the southern Tyrol or "Feierabend" (end of the work day) in the north.
When - more than 20 years ago - Werner Götz was planning to open a restaurant in the small building at the railway station, both name and interior decoration were immediately determined.
The motto being..."wrap up the end of a work day with a celebration".
The restaurant represents a mix of Mediterranean and national cuisine:
Frequently changing special menus
Basic menu of the most popular dishes
Comprehensive wine list
Modern beer menu
Take away service from Tuesday - Saturday 5:30 - 9:30 p.m.
Please book in advance (as from 10:00 a.m.): +43 5337 62613 or +43 650 5903905
Spend your very personal, enjoyable evening at Dopolavoro!

Opening hours
27/09/2023 - 31/05/2024
tuesday - saturday
17:00 - 23:00

Please book in advance: + 43 5337 62613
Closed on 24th, 25th + 31st December 2023 + 1st January 2024
Closed for holidays: 04.02. - 26.02.2024

Contact
Werner Götz
Bienerstraße 89
6240 Rattenberg