Stone polisher Sandbichler Kundl
The Kundl Gorge is a veritable source of unique geological rock and stone types. Bring your finds to the Haus der Steine and have your treasures polished and brought back to life!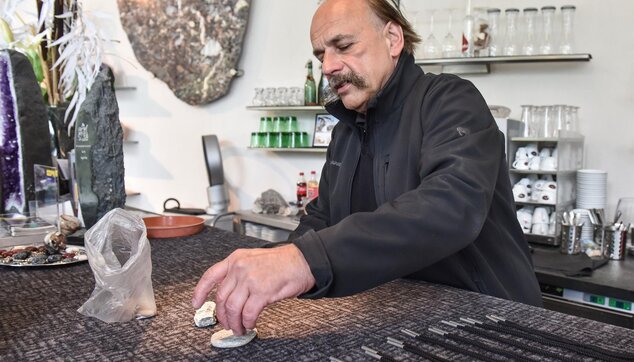 The stream running through the Kundl Gorge is a great place to look for many different types of rocks and stones.

You can take "your" stones to Sandbichler's stone turner's workshop where they get ground and polished and processed into whatever shape you wish, e.g. into vases and bowls. An expert opinion on the history of the stone's origin is also provided.
The building is modelled on a fallen boulder, which looks quite inconspicuous from the outside. Once you enter the building, much is revealed. The Haus der Steine (House of Stones) serves as an exhibition and sales room. The probably most beautiful stones and minerals in the Tyrol are lined up next to each other.
You can see the deep green malachite, azurite, serpentine, fossils or the rare colourful conglomerate, which, by the way, only occurs in this region in this form. They owe their shape and colourful appearance to the owner Karl Sandbichler. He works local stone into artistic objects such as decorative apple vases out of marble. Fossils are turned into delicate jewellery.
On show in the shop are some large-format items such as stone tables, fountains or sculptures. Karl Sandbichler is a master of his craft and an absolute stone expert. He knows everything about the history of the origin and composition of the found stones. It's not for nothing that he is called the "stone philosopher". So, take your time when you visit the "Stone Age".
Opening hours
Additional opening hours by prior arrangement by phone: +43 676 6348503
Price information
Free admission!
Contact
Haus der Steine
Karl Sandbichler
Klammstr. 44
6250 Kundl