Wildsauhütte
Nice hut near the Hechenblaikner Alm in Reith im Alpbachtal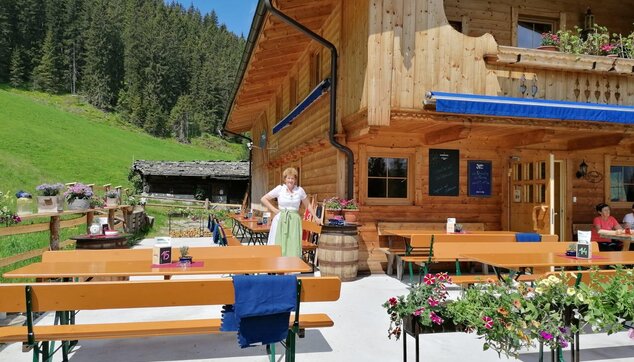 Visit the Wildsauhütte, take a seat on the sunny terrace and enjoy the magnificent views and culinary delights!
The Wildsauhütte is located in a part of Reith im Alpbachtal village called Neader and you can reach it on foot or by bike.
Ideal starting points are the Kerschbaumer Saddle, the Reitherkogelbahn top station in Reith im Alpbachtal, or the Wiedersbergerhornbahn top station in Alpbach.
Our tour suggestions:
Loderstein Summit Hike: A beautiful circular tour with an ascent of approx. 700 m elevation. After 3 km from the starting point, you will pass by the Wildsauhütte. Take a break now or on your return leg.
Alpbachtal Alm Hut Experience Hike: A hike from one mountain top station to another. A lovely tour with only 500 m elevation through wonderful countryside offering magnificent views. About halfway along the route, you can stop at the Wildsauhütte.
Mountain Bike Tour Hochlindalm Circuit 317: A physically demanding circular tour that will get your heart beating faster not only because of the stunning views. If you don't want to do the full circuit of 800 m elevation and 16 km of cycling, you can stop at the Wildsauhütte after 7 km and relax on the terrace!
Nothburga Mauracher and her team can't wait to welcome you.
The Wildsauhütte is a "Alpbachtal Hüttenjause" Partner!
Opening hours
In case of bad weather the hut is closed.
Opened only in summer.
Subject to change.

Contact
Nothburga Mauracher
Neader 11b
6235 Reith im Alpbachtal