Walking and hiking tours
Difficulty: Easy
Reitherboden Loop Walk
The path offers an ideal opportunity to discover your holiday resort; easy walk with several impressions of Reith
Pleasant walk with pretty views!
The stroll through the flower village of Reith im Alpbachtal starts in the village centre. Learn about the "Venedigermandl" a troll-like mythical creature at the lake, one of the first stops. The tour continues above the lake to the Alpbachtaler Kinderpark, an ideal place to take a break with or without children. Continue towards the Reither Almen, an idyllic setting resembling a rustic alpine pasture. The view over the village and the mountains is unique. The hike leads along the edge of the forest towards the Brandach farm and back to the village centre.
Author's recommendation
If you would like to take a longer walk (one hour more), instead of walking towards the woods at the Reither Almen walk straight ahead past the Angerer farm and take the next turn to the left to the Wölzenberg water reservoir. Continue downhill and along the "alter Hygnerweg" to Reither Anger and back to the village centre.
Directions
From the village turn left after the church - walk along the Seeleite (= footpath encircling the lake) - walk along the road towards the Alpbachtaler Kinderpark - turn left continuing on to Ried - onto the Reither Almen and walk alongside the forest to the Brandach farm - turn left and walk back to the village centre.
Author
Alpbachtal Tourismus
Details
| | |
| --- | --- |
| Max. Altitude | 693 |
| Start | Reith im Alpbachtal |
| End | Reith im Alpbachtal |
| Public access | A12, motorway exit Kramsach/Brixlegg, towards Brixlegg, Alpbachtal, Reitherkogelbahn |
| Public transport | Bus 4074; bus stop: Reith im Alpbachtal church |
| Parking | Reitherkogelbahn car park |
| Equipment | Comfortable hiking gear |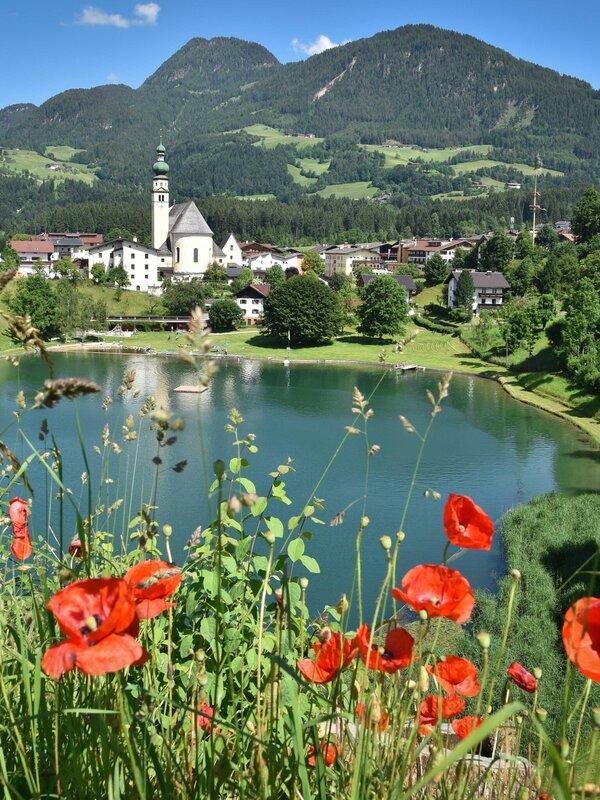 Tips for you
Good to know
There's more!
Similar tours