Mountain Biking
Difficulty: difficult
Steinbergalm 305
A varied tour up the beautiful Lueger Valley with magnificent views and tasty cheese at the rustic Steinbergalm!
On a mountain bike or an e-bike up the Lueger Valley in Inneralpbach to the Steinbergalm. A culinary reward awaits cheese lovers at the Steinbergalm at the end of the Lueger Valley in Inneralpbach. Dairyman Hannes Klingler produces homemade cheese and grey cheese (Austrian speciality) on his alm. Try some of the cheese with a glass of fresh milk and enjoy the beautiful views.
Additional information
Service:
Video impressions:
Author's recommendation
Bike & Hike!
Combine this bike tour with a mountain top experience and hike up the Sonnjoch (approx. 1,5h walking time).
Otto-Leixl-Hütte shared trail details :
Safety guidelines
Winter closing:
All MTB and bike routes are closed for safety reasons from 1st November until 1st April of the following year.
These routes are not cleared and many MTB routes are exposed to avalanches. Depending on snow conditions, some routes may need to remain closed beyond 1st April. For more information and details see your local tourist office.
Directions
From the car park in Inneralpbach take the road leading into the Lueger Valley. Pass the Buben chapel, cross the bridge over the Alpbach river and bear right cycling uphill alongside the river. Passing the Kühtalalm the track leads steep uphill to the Faulbaumgartenalm at 1.492 m (where you can get something to eat and drink). The last uphill stretch brings you to the Filzalm and to the end of the route to the Steinbergalm at 1.710 m (where you can get also something to eat and drink).
Author
Manuel Hufnagel
Details
| | |
| --- | --- |
| Max. Altitude | 1711 |
| Start | Inneralpbach car park, Alpbach |
| End | Inneralpbach car park, Alpbach |
| Public access | https://radrouting.tirol/ |
| Public transport | Up to five bikes per bus |
| Parking | Parking in Inneralpbach / Galtenberg Bed & Breakfast hotel (official start) or at the Hochberg parking lot (shortens route by approx. 2 km and 110 elevation gain). |
| Equipment | Helmet, sun glasses, bike shorts, rain proof jacket, hat, drinking bottle, map, first aid kit, mobile phone, camera, bike lock, replacement inner tube, mini tool kit, bike pump, puncture repair kit, sealing (repair) tape, sun cream, energy food (muesli bar), snack, ... |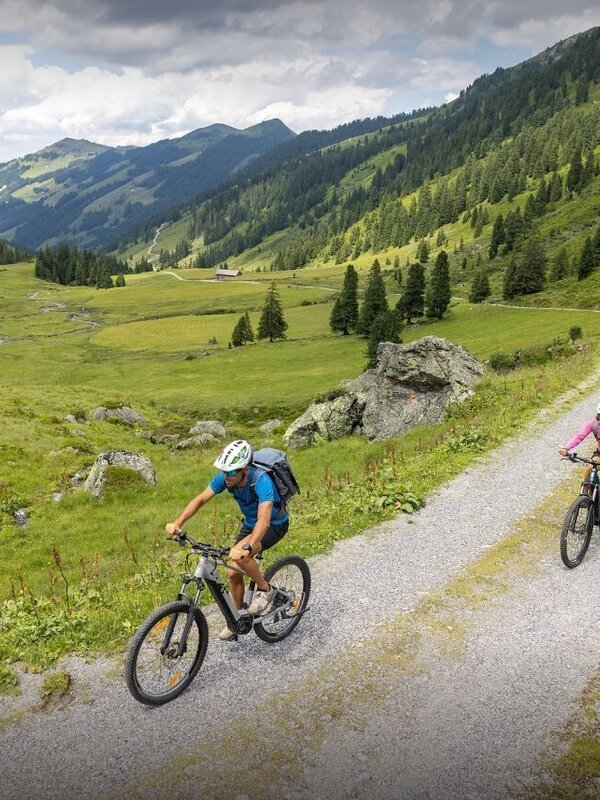 Tips for you
Good to know
There's more!
Similar tours