Walking and hiking tours
Difficulty: medium
Tiefenbach Gorge from Brandenberg
Enjoyable hike through the impressive gorge. The raging waters below you and the steep cliffs next to you are both formative of this natural landscape.
In addition to the route leading through the Tiefenbach Gorge and back, you can also walk from Brandenberg village. Take the road next to the church leading downhill and follow the signs for Jausenstation Tiefenbachklamm where the entrance to the gorge lies. After about 1 hour's walk, you will find the first opportunity to take a break. Treat yourself to a hearty snack or find a cosy spot in the meadow near the stream and listen to the water rushing by.
The path through the gorge starts from this point. The trail leads to Kramsach passing over three impressive bridges and past a viewing platform continuing on through the forest to the gorge exit. Allow a further 1,5 hours for the hike.
Walk along the main Aschauer road towards Kramsach. After about 3 km you will reach a bridge. Cross it and then turn right towards the Mariathal Basilica - a visit is highly recommended! To the left of the bridge lies the sculpture park - a special place with interesting art installations. From the basilica walk about 1 km to the bus stop "Kramsach Abzweigung Mariatal" and from there take the bus back to Brandenberg village. From lunchtime onwards, there is a bus approx. every hour.
At the end of the gorge walk to the nearest bus stop Mariatal or the Sonnwendjochbergbahn (defunct chairlift) approx. 50 min.
Author's recommendation
charming hut where you can get something to eat and drink
viewing platform
Mariathal Basilica
Safety guidelines
Young children should be supervised at all times!
For a returnable fee, harnesses can be hired at the following points: Sport OSSI in Kramsach and the Jausenstation Tiefenbachklamm.
We strongly recommend not to walk the gorges on days with heavy rainfall.
Directions
From the church follow the signs for "Tiefenbachklamm" to the Jausenstation Tiefenbachklamm. Walking time approx. 1 hour. The gorge path begins here. Follow the path (a further 1,5 hours walking time). From the Kramsach end of the gorge walk along the Aschau road (approx. . 4 km) to the next bus stop (Abzw. Mariatal) to Kramsach (1 hour walking time). Take the 4070 bus back to Brandenberg village (approx. 20 minute travel time).
Author
Alpbachtal Tourismus
Details
| | |
| --- | --- |
| Max. Altitude | 918 |
| Start | Brandenberg |
| End | Kramsach |
| Public access | A12, motorway exit Kramsach, towards Kramsach, lakes, turn left after crossing the bridge and follow the L4 to Brandenberg |
| Public transport | www.vvt.at |
| Parking | Brandenberg opposite the church |
| Equipment | Sturdy footwear and protective clothing |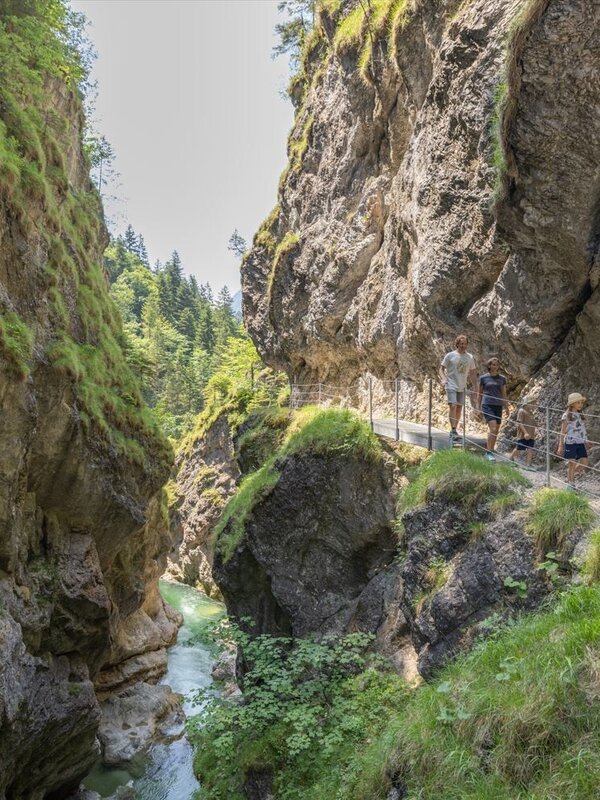 Tips for you
Good to know
There's more!
Similar tours