A walk in the clouds
Huts & Alpine pastures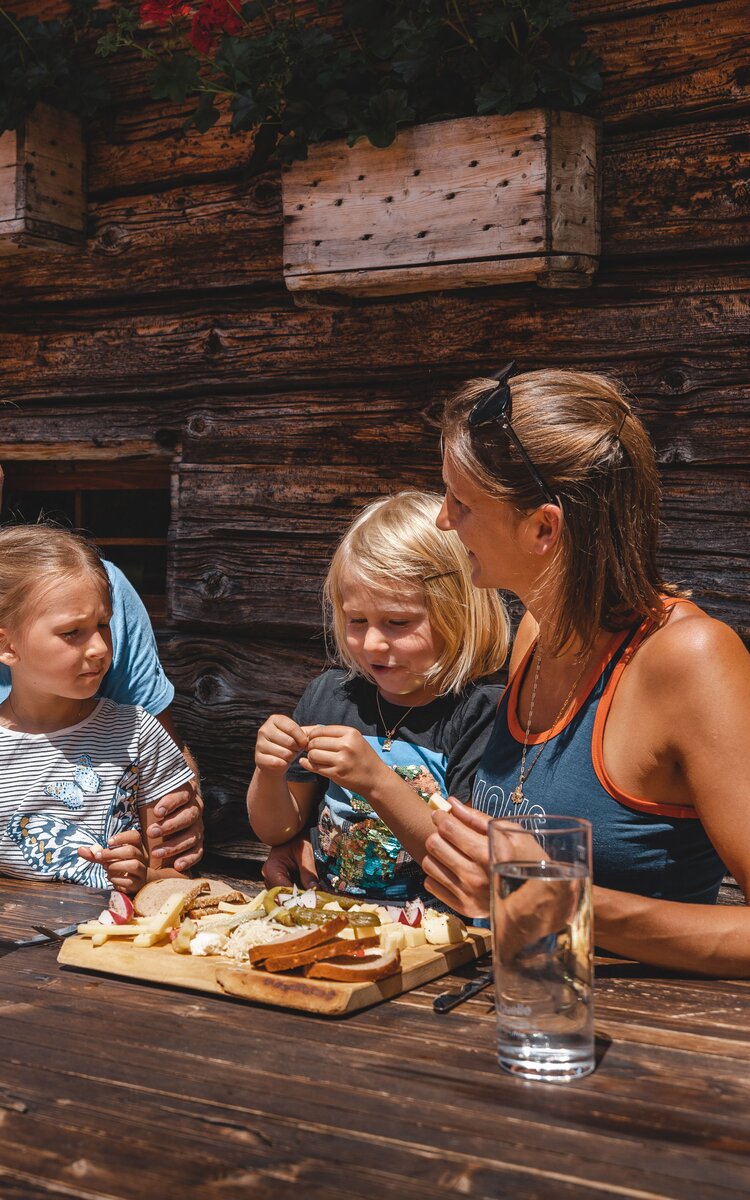 Part of Tyrol's cultural history
A hike to a hut in the Alpbachtal is also a little journey through time, because many of the local huts are several centuries old – and thus inextricably linked to the history of the region. At the more than 400-years old Farmkehralm, for example, you can still experience the authentic Tyrol.
The Steinbergalm in Inneralpbach (also a wonderful Bike & Hike destination!) dates from the 16th century. As a consequence, the traditions there are still pure and genuine – like the cheese that dairyman Hannes Klingler produces on the Steinbergalm every summer.
Yummy...Enjoy it
Tuck into a "Tiroler Hüttenjause"
What's the best thing about an alpine hike? Some say: the panoramic view of the surrounding summits. Others say: being out and about in Tyrol's fresh mountain air. And then there are those who say: the moment you are served an "Alpbachtaler Hüttenjause" at one of the region's more than 30 serviced huts.
Combined on a wooden platter are the best regional products: aromatic Alpbachtal haymilk cheese, tasty speck, crusty bread – and perhaps a schnapps from the farmers distillery?
Our tip: Collect stamps in the "Alpbachtaler Hüttenjause" folder to receive your own wooden platter!
Alpbachtal Hüttenjause
I'll just stay
Huts with accommodation in the Alpbachtal
One thing's for sure: you will find some of the Alpbachtal huts so comfortable that you'll want to stay the night. The good news: this can easily be arranged, as many of the huts across the region offer overnight accommodation. So if you make a reservation in advance, nothing stands in the way of a multi-day hike.
Speaking of hiking: If you don't feel like working up a sweat, many of the huts can be reached with the Alpbachtal summer mountain lifts. This is a particularly convenient option for family hikes.
By the way: Use of the summer mountain lifts is free with the Alpbachtal Card!
Hiking tours in stages