Wild and wonderful
Gorges and nature experience
Wild and mystical: Alpbachtal's gorges offer a nature experience of a special kind. Thundering mountain streams, jagged rocks, shady trails – hiking through the gorges and ravines of the region isn't just a pleasure on hot summer days.
Three impressive gorges invite hiking enthusiasts and nature lovers to embark on an adventure through the Alpbachtal wilderness where these unique spectacles of nature, the Tiefenbach, Kaiser and Kundl Gorges, unfold.
Nowadays popular excursion destinations, Alpbachtal's gorges were once the scene of a practice that was as impressive as it was dangerous. For almost 500 years, one of the largest timber drifts in Europe took place in the Alpbachtal.
Tree trunks weighing several tons were transported down to the valley several times a year using the power of the water. And this undertaking was so spectacular that even the "celebrities" of the time, such as Emperor Franz Joseph II, came to watch.
Even if this practice has not taken place here since 1966, the Alpbachtal gorges still promise a remarkable experience. The well-secured paths, bridges and steps lead you along the water, with a new adventure waiting around every corner.
A sure step is still required today, of course. The narrow, often slippery paths call for sturdy shoes and caution. You will be rewarded for this with an unparalleled nature experience and wildly romantic photo opportunities in all three gorges.
Thundering mountain streams & craggy rocks!
Tiefenbach Gorge (Tiefenbachklamm)
Tiefenbach Gorge is one of Tirol's most well-known excursion destinations – for good reason! Turquoise green waters, unusual rock formations and breathtaking views from the viewing platform: for many, the easy hike along the Brandenberg stream is one of the region's most beautiful nature experiences.
Water sports tip: Watch the kayakers make their way downstream from the three bridges – and you might just get in the mood for your own white water adventure.
Kaiser Gorge (Kaiserklamm)
Kaiser Gorge is particularly popular with families. The hike along the Brandenberg stream offers plenty of highlights for all ages in just 30 minutes walking time. Rushing white water, lovely picnic areas, adventurous bridges and tunnels...Visiting Kaiser Gorge is like a journey into another world.
Tasty tip: At the entrance to the gorge you will find Gasthaus Kaiserhaus where you can sample one of Alpbachtal's culinary classics. Have you ever heard of the "Brandenberger Prügeltorte"?
Kundl Gorge (Kundler Klamm)
A visit to Kundl Gorge gets off to a spectacular start: the timber frame style bridge from 1914 offers views of impressive rock formations and the rushing Wildschönauer Ache. The wide path that leads through the gorge is suitable for hikers of all ages and even buggies.
Experience tip: Many special minerals and stones can be found along the Ache. Why not collect some and take them to the "House of Stones" where they will be polished and turned into a fantastic souvenir for you.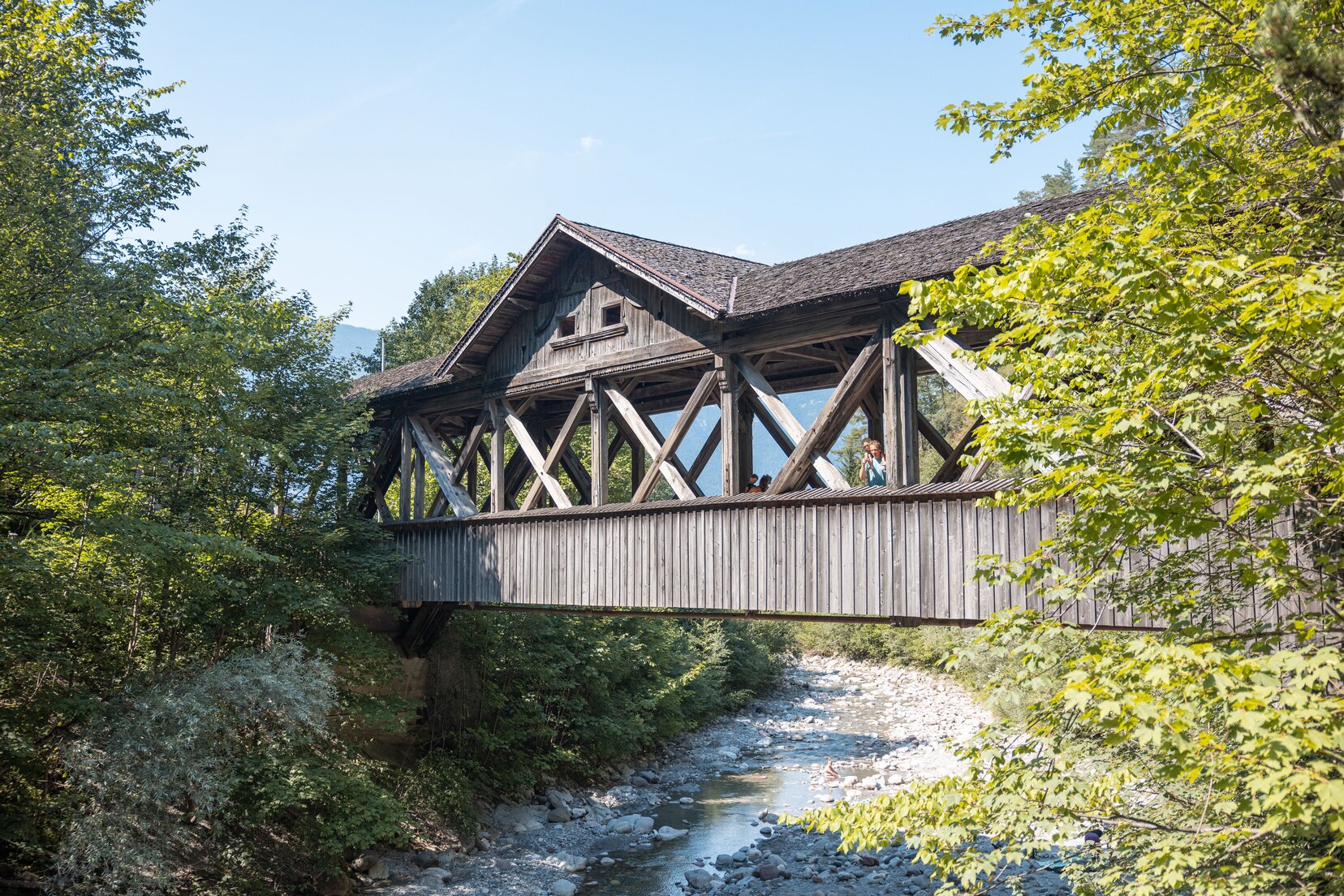 And action! Water sports in the gorge
How about a change of perspective? Alpbachtal's three gorges are particularly worth seeing from the water. Captivating white water sports are a great way to combine nature experiences with physical activity.
Get your adrenaline kick in the gorge with…
You and your loved ones whoosh down the wild waters of the Brandenburg stream on brightly painted truck tubes.
Swimming with a difference – wearing a wetsuit and helmet in crystal clear mountain water! Combined with gorge hiking and daring jumps, taking a dip becomes a real experience.
Into the floods! With the help of your fellow paddlers, you can conquer even the most challenging rapids in a rafting boat.
The gorges of the Alpbachtal are even more spectacular from a kayak. Experienced kayakers can enjoy unforgettable nature experiences in the white waters of the Brandenberg stream.