Antonius chapel
The chapel to visit when you've lost something....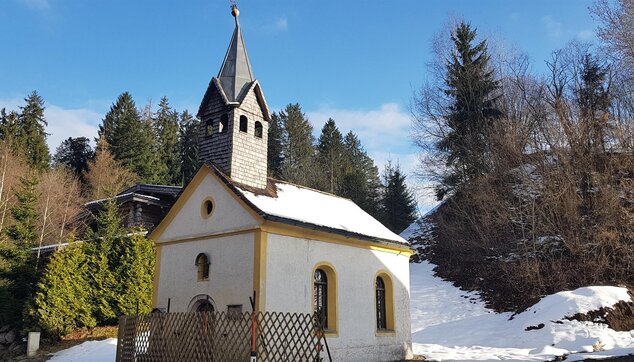 The chapel in the hamlet Straßmühl is dedicated to St. Anthony (located right next to the main road) and was built in 1675 by the miller Peter Kurz. In 1707, the master mason Hans Huber from Breitenbach had it replaced by a new chapel. A built-in marble well niche with shell crowning and the figure of the Man of Sorrows adorns the gable facade of the northeast corner. The round-arched door from the previous building (dated 1685) with floral and bird motifs was preserved. Ornamental vault paintings and scenes from the life of St. Anthony (late 19th, early 20th century) decorate the inner vault.
The spacious chapel can seat up to 20 people. There is even a harmonium available for the annual Mass celebrations held in honour of St. Anthony. The Chapel of St. Anthony is owned by the parish of Breitenbach.
Opening hours
The chapel can only be viewed from outside and is only open when a church service is held, e.g. the annual St. Antonius commemorative service.
Contact
Pfarrkirche St. Peter
Dorfmitte
6252 Breitenbach