Fishing in the Brandenberg Stream
Fishing in the stream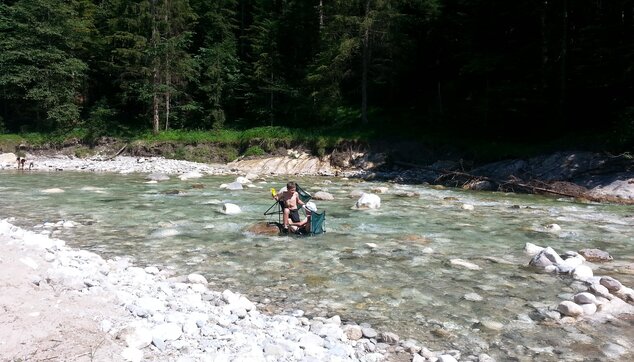 Fishing from 1st May until 30th September
Welcome to the unique fishing experience in the Brandenberg Stream! Discover the beauty of these idyllic waters and its fish in the midst of a breathtaking landscape. Whether you are an experienced fisherman/fisherwoman or a novice, an unforgettable adventure in harmony with nature awaits you. Experience and enjoy the magic of fishing in the Brandenberg Stream!
Fishing is allowed between the end of the Pinegg gorge and the Erzherzog-Johann-Klause (with the exception of the 2 km between Trauersteg and Baumbach)
The stream is home to river and rainbow trout.
No live bait permitted (only blinkers, flies, cheese, etc.)
Not more than 4 fish measuring a minimum of 24 cm
What to bring with you:

Day licence
Photo ID
Tyrolean fishing card or fishing card for guests
Measuring equipment (e.g.: measuring tape)
Loosening tongs
Fish killer
A ticket for the day costs € 35,00
With this ticket you can fish from 7:00 a.m. until 7:00 p.m.
3-day and 7-day permits can also be purchased
Fishing card for guests:
If you don't have a Tyrolean fishing card, you need a fishing card for guests (in German only!), which is sufficient if you only want to fish for a day and is valid for 14 days in throughout the Tyrol. You can buy the fishing card for guests from the fisheries manager or at the issuing point.
Opening hours
From 1st May - 30th September
By prior arrangement only!
Contact
Hubert Ampferer
Aschau 73
6234 Brandenberg