Brandenberg Stream
The wild gushing waters of the Brandenberg Stream meander through Brandenbergs' rich and diverse forested landscape.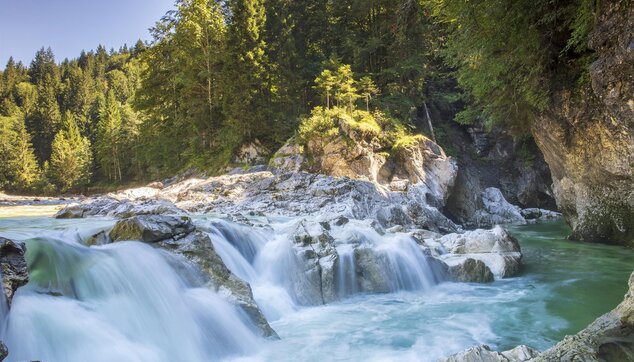 The wild gushing waters of the Brandenberg Stream
The Brandenberg Stream is a 22 km long left tributary of the Inn and flows through the valley like a mighty canyon stream. Wildly romantic and shimmering turquoise-green, the stream flows through the mountains and feeds the Tiefenbach Gorge with water. A piece of untouched paradise in the Alps, but quite different from the Isar, for example. While other rivers and streams like the Isar rise in the Alps and flow northwards to the edge of the Alps, the Brandenberg Stream takes the opposite route from north to south and cuts through the Northern Limestone Alps towards the Inn. Until 1966, the stream was used for wood drifting, one of the largest drifting facilities in Central Europe. This habitat of forest, nature and water is an oasis with many retreats and unique nature experiences.
Wild forest diversity & "Valley of Butterflies"
The Brandenberg Valley in the Alpbachtal region is the most densely forested municipality in the Tyrol, with 87% forest coverage and a true paradise of unspoilt forest diversity. The forested areas around the Brandenberger Ache as well as in between the peaks of the Rofan Range - with the 2299 m high Hochiss, the highest peak of the Brandenberger Alps, never fail to fascinate. Brandenberg is known as the "Valley of Butterflies" due to the above-average amount of butterfly habitats (more than 800 types of butterflies) and offers a biodiversity like nowhere else. Also to still be found are rare orchids and ferns.
Hiking along the Brandenberg Stream
Around 16,000 litres of drinking quality water flow through the Brandenberger Ache. May is a popular month for impressive gorge hikes as the stream carries especially much water at this time of the year. These volumes of water have worked the rock over the millennia, forming steep gorges and ravines. Two particularly beautiful gorges along the Brandenberger Ache are: the Tiefenbach Gorge and the Kaiser Gorge. Experience the power of water in all its facets on a hike through one of these gorges.
Opening hours
Contact
Brandenberger Ache
Fachental 74
6233 Kramsach