Walking and hiking tours
Difficulty: Easy
Alpbacher Höhenweg - loop walk
Pleasant walk from the village centre via the Mittlerer and Oberer Höhenweg offering beautiful views and with places along the way to stop for something to eat and drink.
This pleasant circular tour leads past some of Alpbachs' most picturesque farmhouses. Along the way traditional inns provide for the hungry and thirsty hiker and the views over the mountains and valley are breathtaking. Part of the trail leads along the Path of Contemplation on a shady forest track.
Additional information
St. Oswald parish church in Alpbach
Author's recommendation
Erbhöfe (inherited farms)
Among the municipalities of Tyrol, Alpbach ranks among the prominent ones with over 20 farms passed from father to son. Most of the farms in Alpbach have been in the same family for over 300 years (to carry the title "Erbhof" these farms must be in one and the same family for a minimum of 200 years). Discover some of these beautiful farms along the route!
St. Oswald church & cemetery
The tour starts in the village centre at the St. Oswald parish church. The church and it's quaint graveyard, which according to Catholic tradition surrounds the parish church, are listed monuments. The Vienese Nobel prize winner for physics, Erwin Schrödinger (1887 to 1961) was buried here at his own request. It is easy to find his grave. Walk past the Chapel of the Dead to the left of the church entrance. His grave is in the fifth row next to the wall.
Directions
Take the road to the right of the church walk past the Hotel Alpbacherhof, cross a small bridge and take the road to the right leading down to the stream. Cross the Mühlbach bridge (to your left is the entrance tot the Mühlbachweg, the Path of Contemplation) and follow the signs for the A4 towards Stoffen. Follow the A7 (Mittlerer Höhenweg) via Stettau and past the Brechelstube and the flour mill.
Follow the signs for "Oberer Höhenweg" (not towards Inneralpbach). The path leads directly to the Jausenstation Wurmhof and onto a tarmacked road. Walk down the road towards the Alpengasthof Rossmoos and the village centre. Before reaching the bridge a path leads to the left and the "Mühlbachweg" bringing you back along a pleasant forest track to where you started.
Author
Alpbachtal Tourismus
Details
| | |
| --- | --- |
| Max. Altitude | 1161 |
| Start | St. Oswald parish church in Alpbach |
| End | St. Oswald parish church in Alpbach |
| Public access | A12, motorway exit Kramsach/Brixlegg, Alpbachtal, Alpbach |
| Public transport | www.vvt.at bus no. 4074 |
| Parking | Garage at the SPAR supermarket or opposite the garage below the fire brigade building |
| Equipment | Comfortable clothing, sports shoes |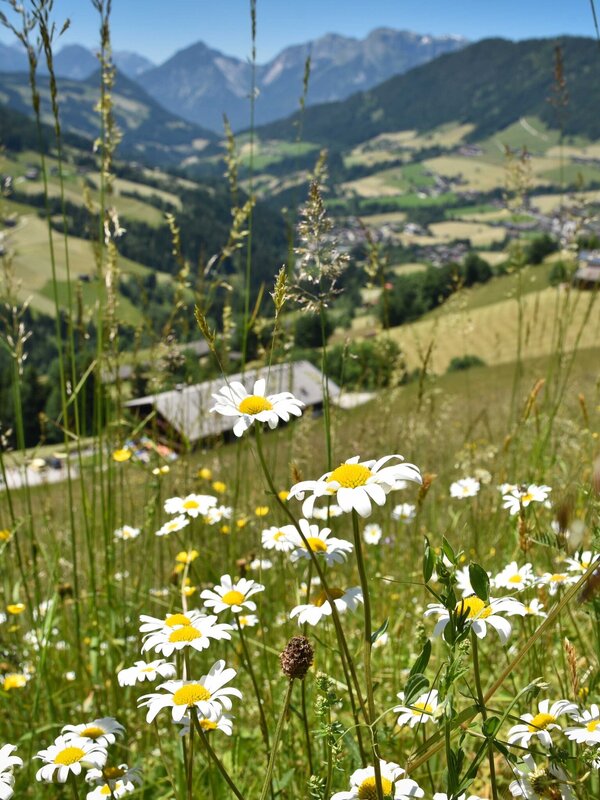 Tips for you
Good to know
There's more!
Similar tours