Mountain Biking
Difficulty: medium
Bike tour Brixlegg - Berggasthof Holzalm via Alpbach
A beautiful tour offering great views and delicious schnitzel' at the Berggasthof Holzalm! Suitable for mountain and e-bikes.
From Brixlegg to the Berggasthof Holzalm Above Brixlegg, to the east of the Alpbach Valley entrance, the terrain undulates rising gently up toBerggasthof HolzalmBischofer Käsalm (1,350 m) where, if desired, you can stop for something to eat and drink and cycle on until you almost reach Alpbach. However, you do not cycle into the village, but follow the signs for Reith and Brixlegg. Away from the main road into the Alpbachtal, which runs on the other side of the valley, you keep rolling passing quaint hamlets on the way to Brixlegg. Soon after crossing the Alpbach Stream at Alpsteig, make sure you don't miss the turnoff to the right down to Mehrn (a narrow gravel road; don't enter Reith). Following a beautiful ride, this shortcut brings you back to Brixlegg.
Directions
Gemeindeamt Brixlegg - tarmacked road MTB-route 313 to Zimmermoos to the
Schwarzenberg Chapel
(approx. 6km) - start of a gravel track leading to the Berggasthof Holzalm (stop for something to eat and drink) - Hauser Saddle via MTB-route 304 to Alpbach - Berggasthof Holzalm - MTB-route 304 along the forest track to the right - through the woods weastwards towards the Hauser Saddle (approx. 100m elevatiopn gain). On the other side in serpentines past Almausschank Bischofer Käsalm - continue toward Alpbach - take the MTB-route 321 northwards - tarmacked road "Alpbacher Höhenweg" downhill - past the Scheffach Alm to Alpsteg - turn right after the bridge - short stretch of gravel path - tarmacked road - on L5 short distance downhill turn right after old peoples home - starting point.
Author
Manuel Hufnagel
Additional information
You're cycling on good forest tracks; suitable for e-bikes
Author's recommendation
You must try the schnitzel at the Berggasthof Holzalm!
Details
| | |
| --- | --- |
| Max. Altitude | 1497 |
| Start | Brixlegg station or Herrnhausplatz |
| End | Brixlegg station or Herrnhausplatz |
| Public access | You can easily plan your journey from your location HERE. |
| Public transport | By train to Brixlegg station, start from station |
| Parking | Free parking in the village centre near the church |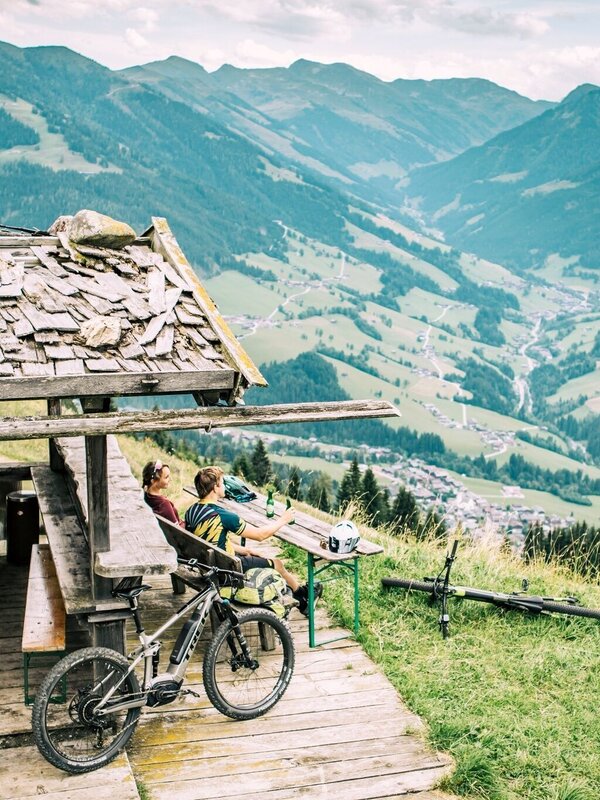 Tips for you
Good to know
There's more!
Similar tours