Walking and hiking tours
Difficulty: medium
Torkopf 2.114m
Rewarding hike to the Torkopf, a solitary peak surrounded by grassy terrain in Inneralpbach.
The hike is not a great challenge with its just under 1,000 m elevation gain and is definitely worthwhile. The Torkopf is an insider tip and hikers looking for a solitary peak set in the centre of the idyllic mountain landscape in Inneralpbach won't be dissappointed.
The tour starts at the barrier in the Lueger Valley. From the Hochberg parking lot, the trail first leads through the forest and then through wide alpine pastures along a forest track to the first destination, the Faulbaumgartenalm. The first 400 m have been covered and the hut is an ideal spot to have a rest and something to eat and drink. The route continues past the Filzalm (food and drinks not provided) to the Steinbergalm. From the starting point up to here, a total of 600 m have been covered in approx. 2.5 hours walking time.
Hannes Klingler from the Steinbergalm is known for his excellent homemade cheese and gray cheese. Cows, heifers, calves and pigs are cared for by the herder and provide the base for excellent dairy products. A tasting is therefore a must, whether before or after the hike to the peak.
From the Steinbergalm, after a further 400 m you reach the grassy Torkopf. From the mountain pasture, first follow the path to the right and then the markings over the Joch to the summit of the Torkopf. Touch base in paradise and enjoy moments to the full at this isolated eminence.
Tour highlights:
extensive alpine pasture area
the houses down in the valleys are hidden from the peak; all you can see is the idyllic mountain landscape of Inneralpbach
two possibilities to find something to eat and drink
Bike & hike tip
Bike & hike: take the route no. 305 to the Steinbergalm and then walk the last 400 m to the Torkopf
Take the same route back.
Author's recommendation
Try the cheese, bacon and bread with butter at the Steinbergalm
Bike & hike tour - take the route no. 305 to the Steinbergalm and walk the last stretch
Look out for the wild blueberry bushes
Beautiful small mountain lake near the summit
In winter, the Torkopf is also a popular ski-touring route
Directions
Car park Hochberg Lueger Valley - Faulbaumgartenalm - Filzalm - Steinbergalm - Torkopf - same route back.
Author
Alpbachtal Tourismus
Details
| | |
| --- | --- |
| Max. Altitude | 2113 |
| Start | Barrier car parkHochberg Lueger Valley |
| End | Barrier car parkHochberg Lueger Valley |
| Public access | A12 motorway - exit Kramsach - Brixlegg/Reith/Alpbach/Inneralpbach - turn left at Connys Original Tiroler Wirtshaus and drive up the Lueger Valley to the Hochberg car park and the barrier. |
| Public transport | For the Bike & Hike: by bus no. 4074 to Inneralpbach - follow the tour 305 to the Steinbergalm.  |
| Parking | Hochberg car park  |
| Equipment | Hiking equipment |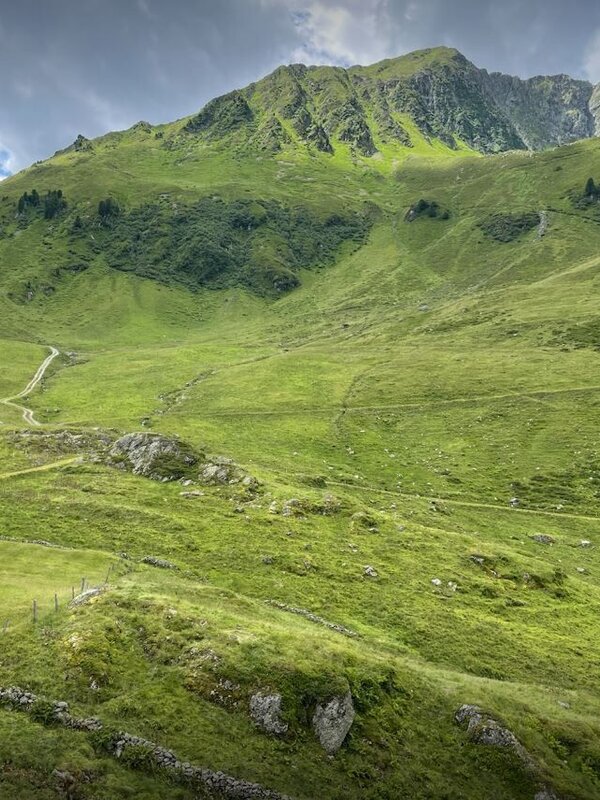 Tips for you
Good to know
There's more!
Similar tours